Your Dining Team
Get to know the team behind Dining.
Office of Dining Programs
Vacant
Director of Dining Programs
Ian Magowan
Interim Director of Dining Programs
Ian joined Dining Programs in January 2017. He earned his B.S. in Hotel, Restaurant and Institutional Management from the Pennsylvania State University. Ian has managerial experience in both the healthcare and private club industries in Baltimore and Philadelphia. Ian is excited to be a member of the Dining Programs team and looks forward to being apart of the growth at Johns Hopkins University. Ian can be reached at ian.magowan@jhu.edu
Stephanie Sufczynski
Dining Programs Coordinator
Stephanie has been at Johns Hopkins University since August 2011 as the Dining Coordinator responsible for coordinating and working with students, staff and dining contractors with information and administrative processes for the dining program.
Her background includes working in Student Activities and Dining during her undergraduate studies at Stevenson University. She received her Masters in Higher Education with a secondary concentration in Student Affairs and Development from Drexel University in June 2015.
She loves working with students, helping them with their dining needs and questions as well as being able to, with the best of her ability, assist students, their families, staff and guests.
Some of her favorite parts of her job include assisting students on student lead and interactive events and campus programming where she can express her interest and background skills in student activities and involvement.
Christine Hahner
Dining Programs Dietician
Christine joins Community Living as a Registered Dietitian. Christine earned her Associates of Arts in Culinary Arts from Johnson & Wales University and went on to earn her Bachelor of Science in Dietetics from the University of Maryland, College Park. While she has a background in catering, foodservice and the culinary arts, her current role as a Nutrition Specialist at the University of Maryland Medical Center focuses on the clinical benefits of proper nutrition. Christine is excited to take her wide range of experience and expertise to bring new ideas to our team.
Bon Appetit
Abdel Anane
Resident District Manager for Bon Appetit
Abdel joined the Hopkins Dining Team back in 2015 as the Director of Operations. He continued in that role supporting and overseeing the day to day operations in the board, retail and catering operations. In 2017, Abdel was promoted to Resident District Manager for Hopkins Dining. Prior to joining Bon Appetit, Abdel worked for Centerplate, event venue catering and hospitality services in the District of Columbia at the Walter E. Washington Convention Center as the Director of Operations. Abdel can be reached at abdel.anane@cafebonappetit.com.
Philippe Chin
Campus Executive Chef for Bon Appetit
Philippe, Master Chef of France, joined the Hopkins Dining Team in the spring of 2016. Prior to coming back to the east coast, Philippe worked in Hawaii for several years as the Director of Operations for Sugar Cane Maui. Philippe has over 30 years' experience in the hospitality industry. Part of that tenure came from hotels, bars, restaurants, catering and entertainment complexes. Philippe received the distinguished James Beard and Maîtres' Cuisiniers de France awards. Philippe can be reached at philippe.chin@cafebonappetit.com.
Jeff Vigilante
Marketing Manager for Bon Appetit
Jeff joined the Hopkins Dining team in September 2014 as the Marketing Manager for the campus. Jeff is charged with the development, strategy and execution of the on campus marketing programs. Jeff's tenure in the hospitality industry has included positions with Marriott International, the Hershey Company, Walt Disney World, ARAMARK and Sodexo USA. Prior to joining Hopkins Dining, Jeff worked in contract services marketing and operations for multiple divisions including healthcare, senior living, corporate dining and higher education. In Jeff's free time, he spends it camping, fishing, traveling and being on the Chesapeake with his wife and two teenagers. Jeff can be reached at jeffrey.vigilante@cafebonappetit.com.
David Friendlich
Director of Operations
David Friendlich joined the Hopkins Dining Team in May 2013. Overall, David has worked in the hospitality industry for over 24 years after receiving his degree in Culinary Arts. Prior to joining the JHU community, David worked for the Country Restaurant Group. He also worked at the Fairmont Hotel and Crescent Brew House in New Orleans. In David's free time, he enjoys working outside in his garden, playing sports with his son and cooking for his wife. David can be reached at David.Friendlich@cafebonappetit.com.
Anthony Cools Lartique
Executive Sous Chef for Bon Appetit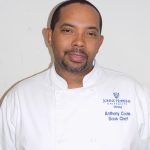 Anthony joined the Hopkin Dining Team in 2016 as the Sous Chef, responsible for the back of the house at Fresh Food Café. In 2017, he was promoted to Executive Sous Chef overseeing the entire operations. Prior to joining Hopkins Dining, Anthony was the Sous Chef at Caesars Entertainment Corporation and was the Executive Chef and Owner of Open Palette Caterers.
Gregory Perez
Chef Manager for Nolan's on 33rd
Greg recently joined Hopkins Dining from Miami, Florida where he was an Executive Sous Chef for a local restaurant. In Greg's new role at Hopkins, he oversees the new changes to Nolan's on 33rd as well as daily operations of the facility.
Steve Paret
Chef Manger for Charles Street Market
Steve joined the Hopkins Dining Team back in August 2015 as a freelance Executive Chef supporting Charles Street Market's culinary. During that time, Steve crafted menus for our students while training our staff in culinary. In early 2017, Steve was asked to stay on permanently as the new Chef Manager for Charles Street Market. Chef Steve works with Hopkins Dining on our Dining Cooking Series each month to teach our students about different methods in preparing their own meals. Prior to joining Hopkins Dining, Steve worked in Miami, Florida as the Chef de Cuisine for 50 Eggs Inc. and as the Executive Chef for Sure Thing Caterers.
Thomas Damico
Chef Manger for Levering Kitchens & Levering Cafe
Thomas D'Amico joined the Hopkins Dining Team in the spring of 2013 at Charles Street Market and eventually moved to his current position at Levering Hall overseeing Levering Kitchens and Levering Café, featuring Threads Coffee. Prior to joining Hopkins Dining, Tom worked at Whole Foods for seven years as the Prepared Foods Manager. Tom has a pure passion for food and family. Tom has worked in several well-known restaurants including Balducci's, Orchard Inn and Neal's Steak & Oyster House. He spends all his free time making his wife happy and of course taking a nap every now and then.