Beat Battle 2023
Posted: March 16, 2023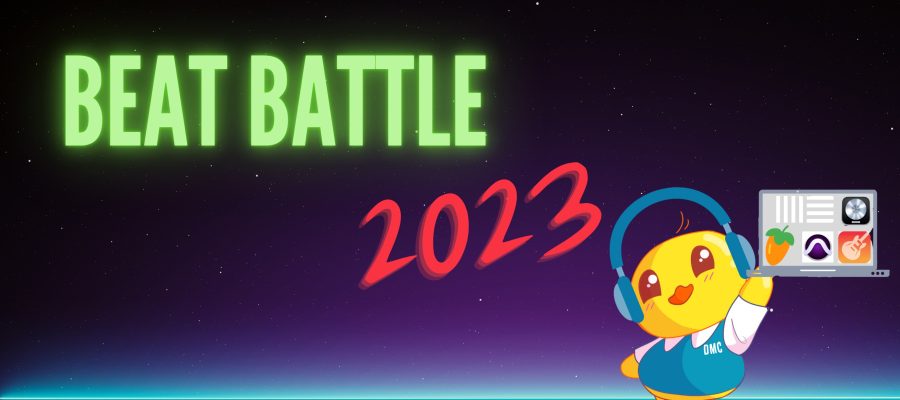 Announcing the 2023 DMC Beat Battle!
Are you an electronic music producer at JHU? Show off your stuff in our annual Beat Battle! This year's shared sample set is 80's themed.
Listen to the submissions from last year's Beat Battle here!
Submissions due by NOON on April 21st.
Rules

:
Submit a beat in any style that is about 1 minute (no longer than 2 minutes) using at least one of the shared 80's influenced samples.

Beats can be as complex or simple as you want, and made in any digital audio workstation (DAW) software like Logic Pro, FL Studio, Ableton Live, etc.

Collaboration is encouraged but please credit all group members.

Use of additional samples is fine but please give credit to original artist (if applicable)

Please, no vocals! (Vocal chop samples allowed)

Submit a single .wav, .mp3, or .aif file with a title!

You must also submit artwork in a square format (1080×1080px) in JPG or PNG file formats. This can be as simple as a single photograph. It shouldn't include your name or identifiable information as voting is anonymous.

Submissions must be received by

April 21st at 12 NOON ET.

Winners will be chosen via anonymous public voting and all entries will be played on the Spring Fair Stage at the Beat Battle Bonanza party on April 28!

All participants must be members of the DMC.
How to Submit:
Fill out this form to upload your beat and track artwork!
Prizes: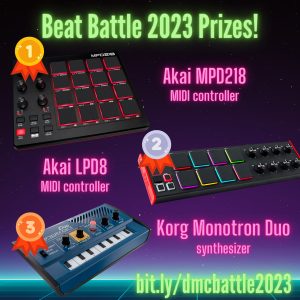 Need some help producing?
Join our Discord and find the Beat Battle channel to chat with other beat makers, watch live-streamed how-tos, and ask any questions you have about the contest or beat making in general.
Register for an electronic music workshop on our HopkinsGroups page:
Beats and Loops in Logic Pro – Monday, April 3 from 3-5 PM
Intro to Ableton Live – Friday, April 7 from 3-5 PM and 4-6 PM
Hands-On Synthesizers – Monday, April 10 from 3-5 PM
Live Sound Crash Course – Wednesday, April 12 from 6-8 PM
Check back for our "Let's Produce" livestream schedule with DMC Staff and Patron producers, showing off their process and demystifying the magic of electronic music production. Watch on our Twitch channel!
Watch this quick Ableton Live how-to that our former student staff Gabe put together just for you.