New Forms/New Paths
Posted: February 6, 2017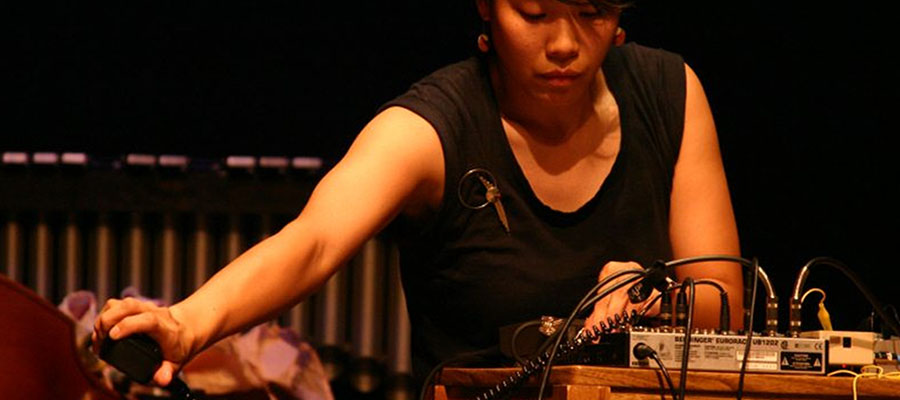 A weekend of new electronic music and ideas comes to JHU.
March 3-5, 2017
The sounds of electronically produced music are the most common sounds one hears in popular culture and media. What was once rare and only available to avant-garde composers and music industry producers, is accessible to millions in the form of thousands of synthesizers, samplers, software and phone apps. New Forms, New Paths is a weekend-long event sponsored by the JHU Digital Media Center, which focuses on new directions and ideas at the cutting edge of electronic music. The potential of digital distribution and the excitement of intuitive software and hardware "hacking" offer the chance for artists to engineer their own technology – bending and stretching the outer limits of sound and style. But what does this mean for musical culture and have we reassessed music history in the brave new world? How have electronics shaped our minds and bodies? What is "new music" in this complicated present? How are we finding new forms and paths through our digital reality?
New Forms, New Paths will feature a diverse group of artists and researchers ranging across age, race, and gender. Rather than focusing only on tools and technological concepts, New Forms, New Paths also considers personal history, identity, and global economic and political changes as the combined materials of contemporary musical innovation. Including a concert, a circuit building and composition workshop, and a panel discussion, this event will connect JHU students and Baltimore's art community with emerging ideas in contemporary electronic music regarding style, aesthetics, politics, and personal growth.
New Forms/New Paths Events:
Evening Concert: Friday, March 3rd, 8-10:30pm, Mattin Center, Jones Building 101
A night of mind-expanding sounds pushing the edge of improvisation, jazz, avant-composition and virtuoso instrumental performance.
Bonnie Jones (electronics) and Suzanne Thorpe (electronics, flute); Convergence and Divergence, 3 Movements
Sarah Hennies (solo percussion, computer, sine waves)
Mind over Matter, Music over Mind w/Thomas Stanley (computer), Jamal Moore (Tenor Sax, electronics), and Bobby Hill (turntables, electronics)
Sounding Points of Light Workshop: Saturday, March 4th, 1-4pm. Mattin/Offit, DMC MakerSpace.
Limited to 8 – 10 JHU student participants, register with BookIt.
Spend the day with TECHNE https://technesound.org/ creating and musically experimenting with your very own light controlled oscillator instrument!
In a 3.5 hour workshop, participants will learn how to make a simple oscillator that is controlled by light via a photoresistor. Knowledge of basic circuitry and signal flow will be explored, with ample opportunity to experiment with different components. No prior knowledge of electronics or sound/music is necessary. We encourage anyone interested in experimenting with sound, light, and electronics to join us and explore!
TECHNE was co-founded in 2010 by internationally active and critically acclaimed electronic musician/composers Suzanne Thorpe and Bonnie Jones. We are a national arts education organization tasked with a mission to give rise to distinct and divergent female voices in the realms of technology and the arts. We accomplish our goal via a series of programs that introduce young women and girls to technology and creative music making.
Panel Discussion: Sunday, March 5th, 2-4pm, The LaB, JHUnions, 3003 N. Charles St
Enjoy an in-depth discussion with some deep thinkers and electronic music performers from Baltimore and Washington!
Bonnie Jones and Suzanne Thorpe of TECHNE
Thomas Stanley, PhD
Tara Rodgers, PhD
Tags: circuit bending, circuitry, composition, electronic, hacking, improvisation, jazz, music, sound