Take a DMC Workshop!
Posted: August 26, 2017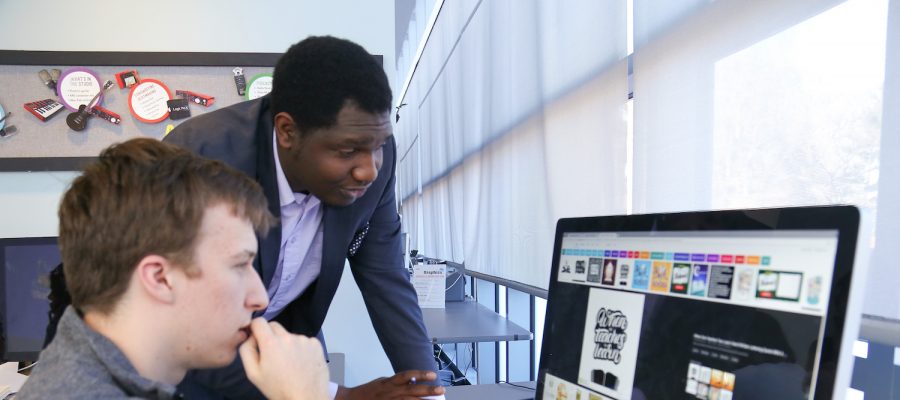 The DMC offers a variety of workshops each semester selected from the master list below. Fall semester workshops are typically held from the middle of September to the week before Thanksgiving. Spring semester workshops are typically held from the first week of February to the week after spring break. Special events are sprinkled in throughout the academic year.
To see the current offerings of workshops and register for a seat, please check the DMC's BookIt site. Registration will open ONE week before the scheduled workshop. JHU Faculty and Staff may attend workshops on a space available basis. Please call our Front Desk at 410-516-3817 on the afternoon of the workshop to see if there is space available.
Workshops are taught by the DMC Professional staff Elena DeBold, John Nweke and Tom Boram. Events can be led by DMC student staff or special guest artists.
Please note: Not all of the workshops described below are offered every semester. If we have not scheduled a workshop you are interested in please contact us and we will attempt to assist you in learning the skills you need.
Introduction to the Audio Studio
Learn to use the software and digital instruments in the audio studio to make high quality recordings. This workshop authorizes you to reserve and use the studio in the future.
Audio Mixing and Mastering
Learn to mix and master music and video projects using EQ and compression to get clean, professional quality recordings. Explore the creative use of effects and pitch correction plug-ins to enhance and improve your tracks.
Beats, Loops, and Sampling
Increase your skill in digital music production using Ableton Live and compose tracks like a pro. Bring your files for critique, or get help starting a new project.
Synthesizers
Explore the huge range of software synthesizers and plug-ins available in the DMC's Audio Studio. Learn different synthesis techniques and how to program your own sounds. You can emulate classic synth sounds, program acoustic modeled sounds, or create otherworldly sound effects!
Podcast Crash Course
Want to start a podcast? Learn about microphones, recording techniques, and mixing your show to sound better than the competition. Upload and distribution platforms explained.
Photoshop for Photography
Use Photoshop's tools creatively to enhance your photos and add your personal style — from neat touch-ups to easy color correction, to cropping, layering, adding text and borders.
Logo Design using Illustrator
Learn to create resizable logos, posters and vector graphics with Illustrator. We'll cover graphic design principles that will enhance your ability to communicate visually.
Graphic Design with InDesign
Design an eye-catching and easy-to-understand flyer advertising your awesome event. We will cover the fundamentals of graphic design, typography, layout and show you how to export for use online and in print.
Research Poster Design using InDesign
Learn how to create an eye-catching and effective research poster with Adobe InDesign. Topics include basic design tips: color choices, layout, data visualization, spacing, and typography.
Information Visualization using InDesign
Think outside the box with your data! In this brainstorming and workshop session, learn how to sway your audience by telling visual stories, and use information and design software to make your case.
Creative Photoshop
Use Photoshop's tools creatively to enhance your photos and add your personal style — from neat touch-ups to easy color correction, to cropping, layering, adding text and borders.
Digital Tablet Drawing and Painting
Looking for a more intuitive interface device to draw and paint with? Try the DMC's Wacom tablets and Microsoft Surface computers for a whole new experience in making digital art.
Digital Marketing 101
So many platforms for social media – who is looking where? Tips and tricks for getting the word out.
Motion Graphics with After Effects
Learn basic animation techniques with After Effects to make your own moving images, infographics and title sequences.
Special Effects with After Effects
Add awesomeness to your video projects! Learn to create amazing motion graphics with After Effects and the Trapcode 3D plug-in suite. After Effects seamlessly blends 3D graphics, video, Adobe Photoshop and Illustrator files into unique hybrids that can be used as special effects for all types of projects.
Creative 3D Printing
​Learn special techniques for 3D printing such as printing with rubber filaments, multi-color filaments, and dissolvable filaments to print complex objects to impress friends and family. This workshop introduces the excellent 3D slicer software Cura. No 3D printing experience is necessary (but might help).
Intro to 3D Modeling
​Start making your own models and modifying existing models to create objects for animation, video projects, and 3D printing. Go under the hood with the amazing free softwares Meshmixer and Blender. Also get a peak into the incredible sculpting software Z-Brush.
Bling Your Things
Design and cut shapes and patterns in colored vinyl decals for your water bottle, laptop or other smooth objects using Adobe Illustrator and our vinyl cutter!
MAKE Identity Buttons
Make 2-inch pin buttons using imagery that relates to your self-identity or promotes a point-of-view.
Temporary Tattoos
Find or design images that relate to your self-identity and print temporary tattoos and vinyl fingernail decals.
LED Tattoos
Create a temporary tattoo that lights up. Learn how to create a wearable circuit and enough coding to make your body art twinkle and shine.
Intro to Arduino
Learn how to set up and get busy with your own unique electronics project. This workshop introduces you to the Arduino hardware and software. We'll cover prototyping circuits and enough coding to launch you into the wild Internet of Things!
Electronic Valentines (February)
Create a unique card for your sweetie! Combine traditional card-making with modern technology: create an LED illuminated paper card!
MAKE A Contact Microphone
Contact mics pick up vibrations in objects they touch. Build one and listen to the Mattin Center, like you've never heard it before!
Movie Making: Getting Started
Have an idea for a short video or documentary? Wondering where to start and what equipment to use? Learn about story development, planning, writing, storyboarding, and basic camera knowledge.
Movie Making: Production 101
Learn how to shoot video and get hands-on experience with our awesome equipment. Take your shoot to the next level with dollies, rigs, and advanced lighting using gear at the DMC!
Movie Making: Editing Basics
This workshop will get you started editing video in Adobe Premiere. You'll learn about cutting, transitions, and working with multiple audio tracks.
Movie Making: Advanced Editing
Take your video to the next level with Adobe Premiere's advanced editing techniques. You'll learn color correction, titles, and transition effects. The last part of the workshop will be based on the needs and interests of the group so come with questions!
Lighting for Video & Photo
We'll go over basic lighting set-ups for documentaries short films, portrait photography plus techniques for creating mood, color, and lighting effects.
Photography Crash Course
Lenses, accessories, depth of field, RAW—find out how to take your camera off the auto setting and become a better photographer.
Video Green Screen
Want to shoot a movie on the moon or in Paris, but don't have the budget? No problem. Shoot your actors in front of our green screen and composite anywhere in the universe. We'll cover set up and compositing in post-production
Live Sound for Video
Learn to capture high quality location recordings for narrative and documentary video. We'll cover planning, recording and editing equipment and techniques.
Sound in Video
Learn to integrate Adobe Audition into Premiere Pro video projects to fix common problems such as noise reduction, mic buzz, and ambient sound interference. Post-production topics such as music and foley will also be introduced.
How to Make a Movie
Have an idea for a short video or documentary? Wondering where to start and what equipment to use? We'll walk through the stages of development from planning to shooting, editing, and distribution.
Video Editing: Premiere
Want to learn to edit video in an advanced and flexible editing platform? This workshop will get you started in Adobe Premiere. You'll learn about making titles, and working with multiple audio tracks.
Advanced Video Editing: Premiere
Take your video to the level with advanced techniques. Topics will be determined based on the needs and interests of the group.
Code Free Web Design with WordPress
Quickly and easily setup and customize your website using free, high-quality themes and code-free content management systems such as WordPress.
Intro iOS Development
Design apps for the iPhone and iPad! This introduction to iOS development uses Apple's Xcode software to combine visual and code-based design.