Our Spaces
JHUnions & Programming operate within three social spaces on campus. Each space offers unique features to accommodate any programming need.
Levering Hall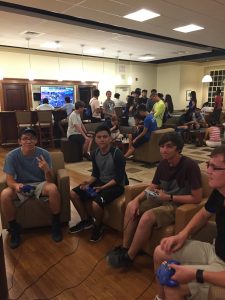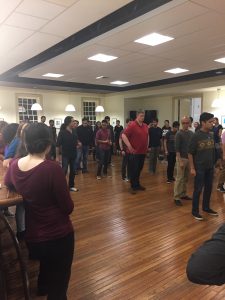 Levering Hall holds a dining hall, a cafe, a large student lounge, various offices, and plenty of programming space for events large and small. Levering Lounge is the most common area in Levering for JHUnions events such as Movie Nights and our weekly Paint Night event! It is a great space for a casual social event or can serve as a reception area in conjunction with the Great Hall. The lounge is also equipped with a pool and ping pong table, PS4's and a variety of video games for student use. See our JHUnions & Programming Levering Student Monitors for more information about using the great amenities in the lounge.
---
The LaB
The LaB is a newly opened restaurant and student union space located in the Homewood Apartments Building. The location, open from 7pm-2am, is unlike any other currently offered on Homewood Campus. It features a unique dining menu including milkshakes, beignets, build your own nachos, kombucha on tap, and much more! Students can relax in front of the water wall while taking in the all of the featured artwork and items with a scientific motif.
Amenities
5 TV's with a Comcast connection
A large projector and screen in front of the water wall (for watch parties and presentations)
A fully equipped media conference table connected to a large 90in TV
A variety of video game consoles (PS4, XBOX One, Wii U, Nintendo Switch)
Fun interactive board games and a shuffleboard table
Common Events
Monday Night Trivia
Dance Workshops
Open Mic Nights
Live Performances
---
Mattin Center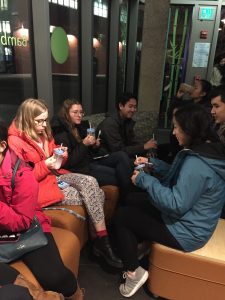 The Mattin Center is the heart of arts on campus and features a dance studio, a blackbox theatre, and numerous practice rooms for student use. The Mattin Center is also home to the Digital Media Center, the Dean of Student Life, Homewood Arts Program, and the Office of Student Leadership and Involvement. Students can enjoy the unique atmosphere of the Bamboo Café for their events hosted and cosponsored by JHUnions including live performances and DIY events!
Interested in hosting or cosponsoring an event in the JHUnion Spaces?