Events & Traditions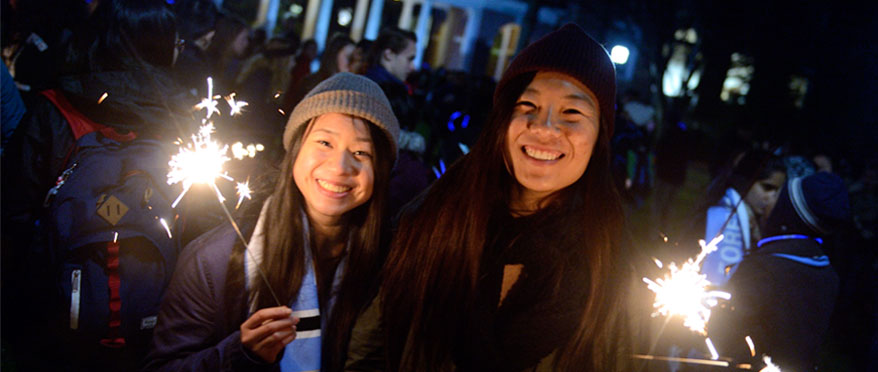 Leadership Engagement & Experiential Development works with campus partners to coordinate events for Johns Hopkins students. In particular, our traditions (such as Blue Jay Opening Day, Lighting of the Quads, and Spring Fair) bring the entire campus together to celebrate our community. Therefore, be sure to mark the dates for these and other campus events on your calendar!
Blue Jay Opening Day
Blue Jay Opening Day kicks off the academic and athletic years. This university-wide "tailgate" features rides, games, photobooth, DJ, giveaways, and opportunities to connect with campus and community resources.
Hoptoberfest
Celebrate the beginning of the fall semester with Hoptoberfest! This annual fall tradition features music, activities, and food. Previously, Hoptoberbest has featured music by Parachute and Cheat Codes, movie screenings, a pumpkin patch, crafts, and a fun run.
Lighting of the Quads
Yearly, the Johns Hopkins community gathers to witness a spectacular lighting ceremony known as Lighting of the Quads. This tradition boasts musical performances, cider, sweets, crafts, and illuminated art. President Daniels leads the crowd in a countdown until he flips the ceremonial switch. Instantly, thousands of holiday lights and a fireworks display illuminate the quad and the audience watching.
Spring Fair
Spring Fair is a highly anticipated Johns Hopkins tradition. Once a year, the sights, sounds, and smells of the fair transform the university into a fun-filled festival for all. Spring Fair features arts and crafts, games, contests, food, and live music. In the past, artists have included the Chainsmokers, Steve Aoki, Krewella, and Meek Mill.