Faculty & Staff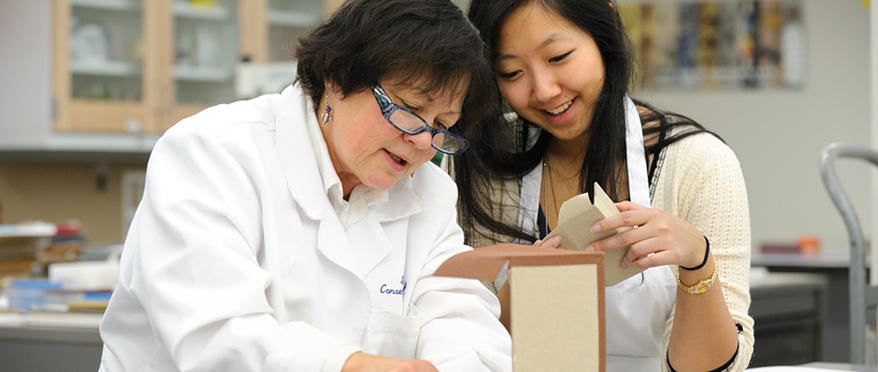 On this page, faculty and staff will find helpful information on grading deadlines and communications.
Grading Information
We hope that your semester has been rewarding and that each student has met your expectations. To make sure we are properly recognizing our students' achievements on their transcripts, you will find information below to assist you with grade submission listed. By submitting grades on time, students are provided with accurate calculations for satisfactory academic progress, timely distribution of financial aid, consideration for honors and/or scholarships, and degree conferral.
The Faculty Handbook requires that all grades be submitted 48 hours after the final examination is given. Courses that do not have a meeting during their assigned final examination time must still submit grades 48 hours after that time has passed. This policy is especially necessary to clear applicable students for graduation. The "Graduating" column on your roster will identify these students. See the table below for term specific deadlines.
Changes to final grades, including incomplete and previously unreported grades, must be submitted via the official Grade Change Form directly to the Office of the Registrar via the Grade Change (Web Form) in Self-Service. Grade changes required in the case of error in grading, calculation, or transcription must be submitted by the end of the following semester. Grade changes for graduating students must be submitted by the close of their undergraduate or graduate record.
Partial Grading
You have the ability to partially grade your roster by submitting the selected grades (Post to Registrars) and then returning later to grade the remaining students. This will be especially helpful for grading "Graduating" students. Please make any changes to the submitted and posted grades on an Official Grade Change form available to you on SIS or at the Homewood Registrar's Office.
For those working with graduate students, please also follow the link "In-Progress Grades for Graduate Students."
We appreciate your continued efforts as we work together to promote the educational goals of our students. Should you need additional information or assistance, please contact the Registrar's Office at 410-516-8080.
Incomplete Grading
Students who experience extenuating circumstances that prevent them from completing coursework within a given term may request an Incomplete (I) grade from their instructor using SIS Self-Service. An approval of an incomplete grade request is neither automatic nor guaranteed.
The form is available to students in SIS Self-Service after the term withdrawal deadline until the last day of classes. University policy dictates that the work should completed and graded no later than 45 calendar days after the last day of classes. Please contact our office if you have any questions.
Fall 2023 Grading Dates & Deadlines
Item
Date
Notes
Boot Camp Courses
October 11, 2023
Online grading begins October 9, 2023
RCR Courses
October 22, 2023
Online grading begins October 20,2023
Term 1 Online Grading Due
October 26, 2023
Online grading begins October 24, 2023
HEART HERO Courses Online Grading Due
November 15, 2023
Online grading begins November 10, 2023
SOUL Courses Online Grading Due
December 7, 2023
Online grading begins December 5, 2023
Full Semester Online Grading Due
January 3, 2024
Online grading begins December 8, 2023


Graduating Students Grading Due
January 3, 2024
The "Graduating" column on your roster will identify these students.

At 11:59 p.m. all saved grades will be posted to records, even if they are not posted to registrars.
Term 2 Online Grading Due

January 3, 2024
Online grading begins December 22, 2023
Unique Course Online Grading Due

September 3, 2023
September 10, 2023
September 24, 2023
October 8, 2023
October 15, 2023
November 29, 2023
Online grading begins
September 1, 2023
September 8, 2023
September 22, 2023
October 6, 2023
October 13, 2023
November 27, 2023
Communications
In case you missed it: Here are some grading communications sent to faculty & staff from the Office of the Registrar-Homewood Schools.
Thursday, August 10, 2023- PDF Document: Grading-Open-Full Term SU-23
Wednesday, August 2, 2023- PDF Document: Grading Open-Term II, Online II and Online 10 Week SU-23
Wednesday, July 26, 2023- PDF Document: Grading Open- Online 8 Weeks SU-23
Wednesday, July 19, 2023- PDF Document: Grading Open-Summer Pre-College II (Online and In-person) SU-23
Wednesday, July 5, 2023- PDF Document: Grading Open-Summer Pre-College I (Online and In-person) SU-23
Wednesday, June 28, 2023- PDF Document: Grading Open-OL1 and Term1-SU-23
Thursday, April 27, 2023- PDF Document: Grading Opening SP-23
Wednesday, December 14, 2022- PDF Document: Grading Opening FA-22
Helpful Links