Events and Traditions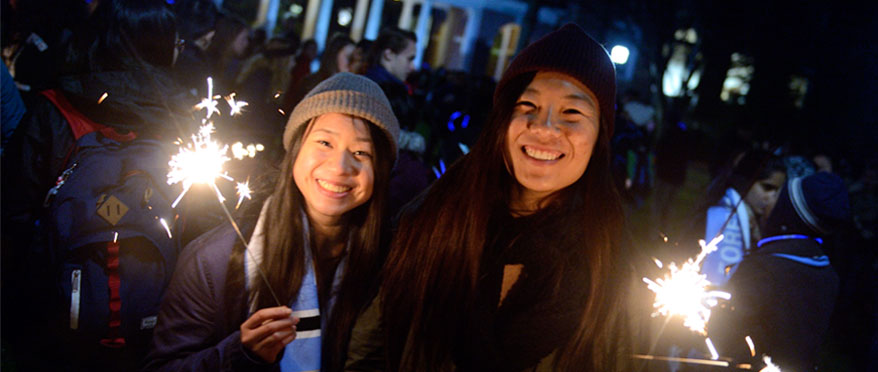 Student Leadership and Involvement works closely with student organizations, programming boards, and administrative departments to coordinate campus-wide programs for Johns Hopkins students. Traditions such as hoptoberfest, Lighting of the Quads, and Spring Fair bring the entire campus together with the help of students, faculty, staff, and alumni. Be sure to mark these dates in your calendar! You won't want to miss these opportunities to take a break from studying and feel connected to the Hopkins community.
Spring Fair
Spring Fair, a non-profit student run event, is a highly anticipated Johns Hopkins tradition. Each year, the sights, sounds, and smells of fair transform the university into a fun-filled atmosphere for all, with arts and crafts, games, contests, food, beer, and live music.
hoptoberfest
Celebrate the beginning of the fall semester with hoptoberfest! This annual fall festival features live music, fun activities and free food. Previous years have featured music by Lupe Fiasco and Big Sean, outdoor movie screenings, a haunted house, laser tag and a non-competitive fun run.
Lighting of the Quads
To celebrate the holiday season, lampposts on the campus quadrangles are wrapped in white lights. Every year in December, the Johns Hopkins community gathers on the steps of the Milton S. Eisenhower Library to participate in the lighting ceremony, known as Lighting of the Quads. Students enjoy holiday musical performances along with free hot cider and cookies as they wait for the ceremonial switch to be flipped, illuminating the campus.
Milton S. Eisenhower Speaker Symposium
The MSE Symposium is designed to present issues of local, national, and global importance to the university and its surrounding communities. Having gained a reputation as a forum for the free exchange of ideas, the Symposium invites speakers with incisive analysis of issues at the forefront of the nation's conscience. All events are free and open to the public.
Foreign Affairs Symposium
The Foreign Affairs Symposium is a speaker series designed to establish a forum for discourse on diverse current issues. FAS invites distinguished and knowledgeable speakers to campus to make these topics approachable for all audiences. In previous years, FAS has hosted Dr. Cornel West, Piper Kerman, and Edward Snowden.
Student Involvement Fair
There are multiple opportunities to learn what student organizations are doing and how you can get involved with them throughout the year. Two of those options are formal student involvement fairs in which one is in the fall and one is in the spring.
The fall Student Involvement Fair is an opportunity to learn about how you can get involved on campus through student organizations. There is a variety of organizations found on Hopkins Groups listing over 300 recognized student organizations. Student Leadership and Involvement plans the annual Student Involvement Fair which is one of the most highly attended events during Orientation. We coordinate all of the table assignments as well as publicity for the event.
Leadership Weekends
The Leadership Weekends are campus-wide leadership conferences supported by the Student Leadership Consultants that are open to any current undergraduate student. The 1876 Leadership Weekend in the fall is focused on helping individuals prepare for a successful year ahead, while the Homewood Leadership Weekend in the spring is designed to help groups on campus plan ahead successfully transition leadership. Partner offices on campus often hold specialized trainings for their student staffs and organizations in conjunction with these conferences.