Events and Traditions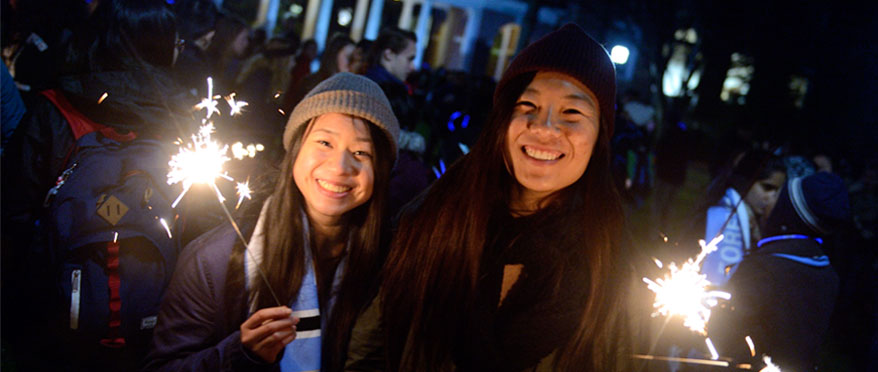 Student Leadership and Involvement works with campus partners to coordinate events for Johns Hopkins students. In particular, our traditions (such as Blue Jay Opening Day, Lighting of the Quads, and Spring Fair) bring the entire campus together to celebrate our community. Therefore, be sure to mark the dates for these and other campus events on your calendar!
Blue Jay Opening Day
Join us at the Athletic Circle on August 30, 2018 from 5 PM – 7 PM for Blue Jay Opening Day!
Blue Jay Opening Day kicks-off the academic and athletic years. This university-wide "tailgate" features rides, games, photobooth, DJ, giveaways, and opportunities to connect with campus and community resources. After the tailgate, come to Homewood Field to cheer on the Blue Jays as they face off against Randolph Macon College at 7 p.m.
Student Involvement Fair
Do you want to join a student organization? Don't miss the Student Involvement Fair! All 400+ registered student organizations have the opportunity to showcase their work and recruit new members. The fair is held in the Ralph S. O'Connor Recreation Center.
Spring 2019 Student Involvement Fair: Friday, February 8 from 2-5pm
Fall 2019 Student Involvement Fair: Friday, September 6 from 2-5pm
hoptoberfest
Celebrate the beginning of the fall semester with hoptoberfest! This annual fall tradition features music, activities and food. Previously, hoptoberbest has featured music by Parachute and Cheat Codes, movie screenings, a pumpkin patch, crafts, and a fun run.
Lighting of the Quads
Yearly, the Johns Hopkins community gathers to witness a spectacular lighting ceremony, known as Lighting of the Quads. This tradition boasts musical performances, cider, sweets, crafts, and illuminated art. President Daniels leads the crowd in a countdown until he flips the ceremonial switch. Instantly, thousands of holiday lights and a fireworks display illuminate the quad and the audience watching.
MSE Symposium
The MSE Symposium is created to present issues of local, national, and global importance. Due to the symposium's reputation as a forum for the free exchange of ideas, MSE invites speakers with sharp analysis of current questions and problems. Most notably, all events are free and open to the public.
Foreign Affairs Symposium
The Foreign Affairs Symposium is a speaker series designed to create space for discourse on current issues. Thus, FAS invites reputable speakers to campus to make these topics approachable for all audiences. Previously, FAS has hosted Dr. Cornel West, Chelsea Manning, and Edward Snowden.
Spring Fair
Spring Fair, a non-profit student run festival, is a highly anticipated Johns Hopkins tradition. Once a year, the sights, sounds, and smells of fair transform the university into a fun-filled festival for all. Spring Fair features arts and crafts, games, contests, food, beer, and live music. Uniquely, Spring Fair hosts their headliner concert at Ram's Head Live. In the past, artists have included the Chainsmokers, Steve Aoki, and Krewella.
Leadership Weekends
The Leadership Weekends are our traditional leadership conferences supported by the Student Leadership Consultants. First, the 1876 Leadership Weekend in the fall focuses on helping student organizations prepare for the year ahead. Similarly, Homewood Leadership Weekend in the spring helps groups plan ahead and transition leadership. Finally, partner offices on campus often hold specialized training for their student staffs and organizations in conjunction with these conferences.