JHU Events and Traditions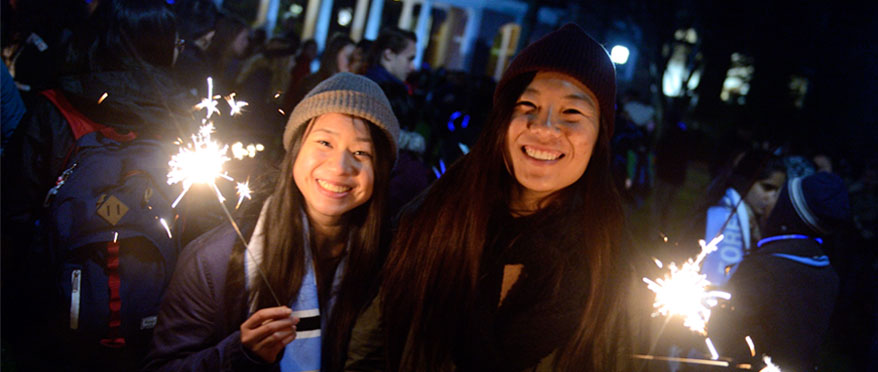 Student Engagement works closely with student organizations and administrative departments to coordinate campus-wide programs for Johns Hopkins students. Traditions such as First Night, Fall Fest, Lighting of the Quad, and Spring Fair bring the entire campus together with the help of students, faculty, staff, and alumni. In addition to these signature Johns Hopkins events, there is always something to do on campus! From open mic nights to video game tournaments, acapella performances to comedy shows, our 300 student organizations are constantly providing events that enhance the overall student experience.
Johns Hopkins Student Union Satellites (JHUnions)
The JHUnions is a new program by the Office of Student Life to tie together the three main socially-centric locations on campus: Levering Hall, the Mattin Center, and Nolan's on 33rd. Levering Hall holds a dining hall, a cafe, a large student lounge, various offices, and plenty of programming space for events large and small. The Mattin Center is home to much of the arts on campus and holds a dance studio, a blackbox theatre, the Bamboo Cafe, the Digital Media Center, and a great atmosphere for your creative spirit. Nolan's on 33rd's amenities include a dining hall, a large screen for movies and television, TV carts for video games, pool tables, board games, and much more all with the kick-back atmosphere of the perfect student union. JHUnions puts on various events each week that have included everything from karaoke to Mario Kart or trivia to poetry nights. Follow on Facebook to learn more.
HOPtoberfest
Celebrate the beginning of the fall semester with HOPtoberfest! This annual fall festival features live music, fun activities and free food. Previous years have featured music by Lupe Fiasco and Big Sean, outdoor movie screenings, a haunted house, laser tag and a non-competitive fun run.
First Night
First Night provides an opportunity for the upperclassmen to officially welcome and induct the freshmen class into the Johns Hopkins student body. This brief 15-minute candlelight ceremony takes place on the first night of class. It includes speaking points from the SGA president and the class council presidents. Candles are lit ceremoniously, the Gilman tower bell rings, and the freshman class is officially inducted into the Hopkins student body! Afterward, the campus comes alive with individual class parties, involving free food and good music.
Hopkins Organization for Programming (HOP)
The HOP is the official student-run campus programming board, providing quality entertainment for Johns Hopkins students by students. The group routinely sponsors and co-sponsors campus activities such as concerts, comedy shows, and movie nights. In past years, the HOP brought musical artists like Lupe Fiasco with Big Sean, Boys Like Girls, and Cute is What We Aim For, and comedians such as Steve Bryne, Julian McCullough, and Jordan Carlos. Visit the HOP website or follow them on Facebook for the latest on upcoming events!
Lighting of the Quad
To celebrate the holiday season, lampposts on the campus quadrangles are wrapped in white lights. Every year in December, the Johns Hopkins community gathers on the steps of the Milton S. Eisenhower Library to participate in the lighting ceremony, known as Lighting of the Quads. Students enjoy holiday musical performances along with free hot cider and cookies as they wait for the ceremonial switch to be flipped, illuminating the campus.
Commemoration Day
On February 22, 1876, Johns Hopkins University opened with the inauguration of its first president, Daniel Coit Gilman. Every year, this anniversary is celebrated by enjoying free birthday cake and other historical activities. Past years have featured a theatrical reenactment of President Gilman's inaugural address and a special exhibit of photographs and old Glee Club songs.
Spring Fair
Spring Fair, a non-profit student run event, is a highly anticipated Johns Hopkins tradition. Each year, the sights, sounds, and smells of fair transform the university into a fun-filled atmosphere for all, with arts and crafts, games, contests, food, beer, and live music.