Center for Social Concern
The Center for Social Concern is an office within the Homewood Student Affairs division of Johns Hopkins that is dedicated to volunteerism and community engagement. The Center emphasizes the value of service with others. Volunteers and community members enter into an educational process where both benefit from the interaction, and reciprocal learning is the common ground for all of our initiatives. Our programs and efforts are striving to create a "better community" in and around the Johns Hopkins campus.
25th Anniversary Celebration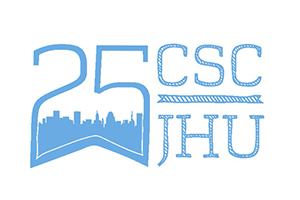 The Center for Social Concern is celebrating its 25th Anniversary this 2016-2017 academic year!
We would not have been able to reach such an accomplishment without our dedicated and supportive students, alumni, staff, faculty, and community partners. So, thank you!
To help us celebrate 25 years of service and engagement with our community, we'd like for everyone to get involved with the community this year. In doing so, we'd love for you to meet, volunteer, and work side by side with our many wonderful community partners! How do you get involved? Read more below.
HopServe50
We are kicking of the year with a service challenge program called, HopServe50. Undergraduate and graduate students are challenged to serve a minimum of 50 hours of non-paid civic engagement activities in Baltimore City. Registration closes on October 31st.  Are you up for the challenge? Learn more and register for HopServe50.
President's Day of Service
You can also volunteer for the day at President's Day of Service! President's Day of Service is a one-day service event on Saturday, September 24th. You'll work with great organizations in Baltimore, meet new friends, and make a difference in our community. It's a great way for staff, faculty, and alumni to get involved for the day! Not to mention, your service hours for President's Day of Service will contribute towards HopServe50! Learn more and register for President's Day of Service.
Get Involved
If you are a new student to Hopkins, the CSC's programs provide a perfect opportunity for you to learn about Baltimore and meet some new friends who have your same interests.
If you are an upperclassman new to the CSC and looking for a new experience that will be fun and impactful, you've come to the right place.
If you are already active at the CSC, help us spread the word and get students involved! Tell them about your experiences and which programs have impacted you the most.
Read more about our other programs and engagement opportunities so you can get involved today!