Pre-Orientation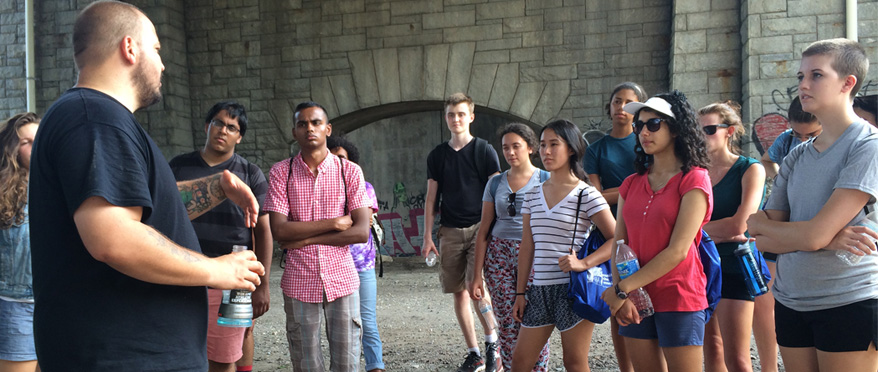 The Center for Social Concern's Pre-Orientation programs, HopkinsCORPS and Habitat for Humanity at JHU, give incoming first-year students the ability to learn more about Baltimore, their new home away from home. Through these programs, you'll gain a better understanding of Baltimore neighborhoods and culture and leave with a deeper appreciation of "Charm City." You'll also create meaningful friendships with fellow students who share similar passions for civic engagement, leadership, and volunteer work — all before moving onto campus!
If you're an incoming student who:
Already has some service experience
Doesn't have any service experience, but wants to learn more about civic engagement, outreach and public service
Then Pre-O could be for you! Read more about HopkinsCORPS and Habitat's pre-orientation programs below or learn more about all of JHU's pre-o programs and how to apply.
Have questions? Contact volunteer@jhu.edu or (410) 516-4777.
HopkinsCORPS
HopkinsCORPS (which stands for "Civic Engagement," "OutReach" and "Public Service") gives first-year students the opportunity to dive headfirst into understanding the neighborhoods and culture of Baltimore. During this weeklong program, students will learn more about the social justice issues affecting Baltimore through a combination of service projects, trips to local community organizations, fun cultural events, and leadership development activities. You'll leave the week with a deeper appreciation for our city and with a new group of friends who share your passion for civic engagement and volunteering. Learn more about the program.
Habitat for Humanity at JHU
Habitat for Humanity at JHU is another great way to start making a difference in the Baltimore community and exploring your new home early. The Johns Hopkins chapter works with the Habitat for Humanity of the Chesapeake to renovate houses and revitalize the Baltimore community. No prior construction experience is necessary! Find out more information about Habitat for Humanity at JHU's Pre-O.
Experiential Education Pre-O Program
For students who would prefer an outdoor experience, the JHU Experiential Education program offers other Pre-Orientation programs for incoming students. In these programs, students will learn valuable outdoors skills, overcome new challenges, and learn about student life at Johns Hopkins. Outdoor experiences include backpacking, climbing, white water kayaking, canoeing and hiking, and multi-element. None of the trips require previous outdoors experience! Visit Experiential Education's website to learn more.