HopkinsCORPS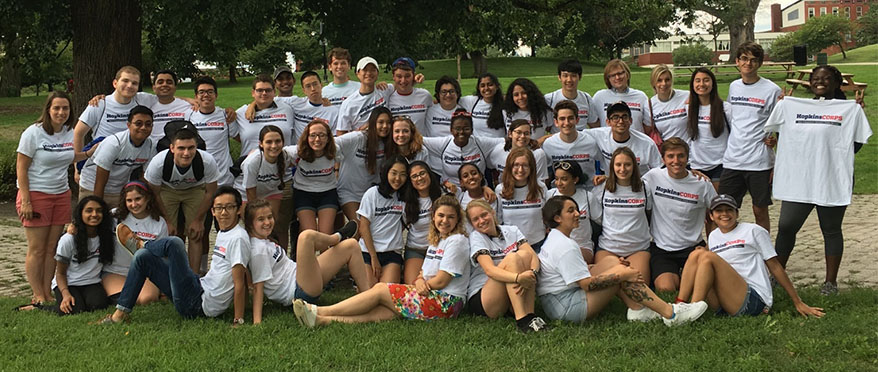 2018 Pre-Orientation: Friday, August 17 – Friday, August 24
HopkinsCORPS is an immersive, week-long community service and leadership development Pre-Orientation program for incoming first-year students. The "CORPS" in HopkinsCORPS stands for "Civic engagement, OutReach, and Public Service," three elements which are at the core of what we'll be doing.
Through direct service, site visits with community organizations, reflection sessions, and leadership development activities, students learn about a variety of social justice issues relevant to Baltimore. and participate in fun group outings in the evenings to continue to explore their new community together. Students move into their residence halls early, then, spend the week living together at a retreat center located at the historic Mount Vernon neighborhood of central Baltimore. The program is facilitated by staff from the Center for Social Concern and student leaders who are highly trained and have significant community service experience. Facilitators will remain with students throughout the entire program. Learn more about JHU's pre-orientation programs.
HopkinsCORPS is wonderful opportunity to really understand the issues surrounding Baltimore and what you could do to amend them. It's a way to make amazing friends and learn to think differently and openly…you come into Hopkins already so knowledgeable about the city which can only prove an invaluable asset for the next four years at Johns Hopkins. — Participant
Program Information
Meet our Leaders
HopkinsCORPS is facilitated by Caroline Ouwerkerk, assistant director of the Center of Social Concern, and six undergraduate students who have a strong commitment to community service and civic engagement. They are responsible for advising, supporting, and mentoring participants throughout the program. Meet our leaders below.
Madeline Amonick '21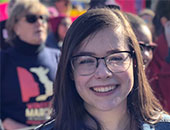 Madeline is a second year Writing Seminars and Cognitive Science double major from Aurora, Colorado. She applies the values she learned as a participant of HopkinsCORPS on campus by being a Brother of Alpha Phi Omega. Off campus, she is a marketing assistant at the Johns Hopkins Press. As a lover of stories, she cannot wait to welcome the budding activists of Hopkins by sharing the stories of Baltimore and its citizens.
Tihitina Aytenfisu '21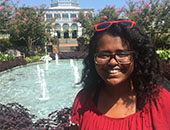 Tihitina is a second-year Chemistry and Philosophy double major from Rockville, Maryland, who participated in HopkinsCORPS her freshman year. She serves as a Peer Listener through A Place to Talk, a tour guide for admissions, and works as a Lab Assistant for the Division of Cardiology at the medical campus. She is very excited to welcome first year students to Baltimore and journey through a fun and insightful week with them.
Clarissa Chen '19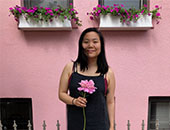 Clarissa is a fourth-year studying Public Health, Global Environmental Change & Sustainability, and Social Policy. Before living in Baltimore, she grew up in Bloomington, Indiana. On campus, she's involved with food justice and fossil fuel divestment organizing, the HOP event programming board, product shift research in the Dining department, and community gardening. Clarissa is looking forward to good conversations and stories about anything – from environmental justice to fun recipes to new music!
Benjamin Laurin '21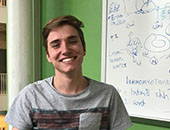 Benjamin Laurin is a sophomore, majoring in Public Health Studies with a Social Policy minor. Ben works in both a neurology clinical trial office and at the SAC lab at the medical campus. He also serves as a member of the Finance Committee for Hippocrates Medical Review, and is a part of Alpha Phi Omega, Thread, and the Baltimore Volunteers Around the World. He's looking forward to meeting a great group of students to Baltimore this August!
Osiris Mancera '19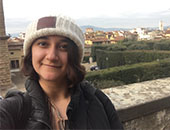 Osiris is a fourth year Latin American Studies, Italian and MSH (Medicine, Science and the Humanities) triple major from Jacksonville, Florida. This will be her third time as a co-leader for HopkinsCORPS after participating in it as an incoming freshman. This past year she spent studying in Havana and Rome, travelled around and kept a blog of her experiences and adventures. However, on campus she was involved in her Latina sorority Hermandad de Sigma Iota Alpha Incorporada and interned at the LGBTQ Life office. She is super excited to share her love of Baltimorean vegan food, yoga and environmental consciousness with incoming first years!
Hannah Wool '21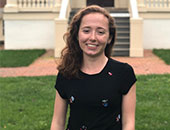 Hannah Wool is a rising sophomore. She is from San Antonio, Texas, but now calls Baltimore home too. This Romance Languages major & Math minor is involved with Hopkins Students for Homelessness Awareness & Alleviation. Some topics close to her heart are mental health awareness, the great state of Texas, and the best way to eat a cupcake. She's looking forward to meeting the new group and helping y'all get to know Baltimore and each other!
Lauren Bernard '20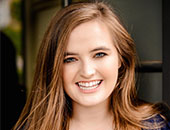 Lauren Bernard is a sophomore Public Health and History of Science, Medicine, and Technology double major from Leawood, Kansas. Lauren serves as a member of the Center for Social Concern's Student Ambassador Board, and in this role she facilitates service reflection sessions across campus. She is also a member of Alpha Phi Omega, Students Consulting for Nonprofit Organizations, and the Visionaries Lions Club. She's looking forward to welcoming civic-minded first years to Baltimore this August!
Olivia Cigarroa '20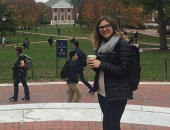 Olivia Cigarroa is a rising sophomore at JHU. She is majoring in Political Science and Sociology and loves social justice. She is originally from Portland, Oregon but loves her new home in Baltimore. In her free time she loves fighting for feminism, watching Parks and Rec, and volunteering.
Osiris Mancera '19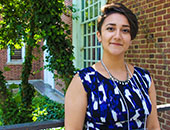 Osiris Mancera is a third year Latin American Studies, Italian, and Medicine, Science and Humanities triple major with a minor in Women, Gender and Sexuality Studies. She was raised in Jacksonville, Florida but her family is from Guanajuato, Mexico. She's involved in Stressbusters, OLE and Hermandad de Sigma Iota Alpha, Incorporada and has been working at the Office of LGBTQ Life for over a year. and has served as a CIIP intern for the past 2 summers. She loves travelling and, through Hopkins, has been able to go to Denmark and Sweden. This year she will be studying a year abroad in Cuba, Brazil and Italy. This summer she's looking forward to sharing her love for Baltimore, Latinx culture and food, Italian films, and Johns Hopkins as a co-facilitator for HopkinsCORPS for the second time!
Eillen Martinez '20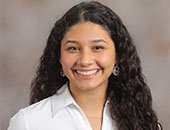 Eillen Martinez is a second-year student majoring in Medicine, Science, and the Humanities. Eillen is a first generation Venezuelan-American raised in Orlando, Fl. She serves at the Esperanza Center, a resource center for immigrants in Baltimore, she dances in Johns Hopkins' only Latin dance group called "Baila!", is a member of the triathlon club, and serves on the Center for Social Concern Student Ambassador Board. Eillen participated in HopkinsCORPS as an incoming freshman and looks forward to returning to the program by facilitating this week full of insight, challenge, and new friendships with students.
Katie Smith '20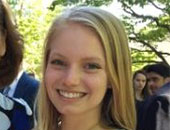 Katie Smith is a second-year Chemical and Biomolecular Engineering major and Spanish for the Professions minor from West Hartford, Connecticut. She's involved with the Real Food club at Hopkins and works for the Dining Department as a Food Procurement Coordinator to facilitate the purchase of more just and sustainable food in campus dining halls. She also works in a Nano Energy Lab on campus and is a part of the women's club lacrosse team. She is looking forward to having some great conversations about Baltimore, service, and life in general with a great group of students!
Ivan Zhang '20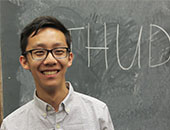 Ivan Zhang is a second-year Economics / Philosophy double major. He is originally from Bridgewater, NJ, but currently lives in Holliston, MA. He is currently involved as the Financial Officer of the Hopkins Undergraduate Debate Council and as a staff reader for the Hopkins
Dorothy Chen '18


Dorothy Chen is a third-year Public Health Studies major and Spanish for the Professions minor from Sunnyvale, California. She is currently affiliated with Health Leads and Students for Socioeconomic Equity, but had previously been involved with Tutorial Project and Thread (Intensive Mentoring Program). She's looking forward to sharing her passion for health disparities within immigrant populations, and is excited to get to know you all at the HopkinsCORPS Pre-Orientation Program!
Anna Clements '17


Anna Clements is a junior Neuroscience and Spanish double major from Fairfax, Virginia. She's been involved with the Center for Social Concern since her freshman year as a member of the Student Advocacy Board. She is also a member of the JHU Track and Field team, Alpha Phi sorority, Nu Rho Psi society for neuroscience, and Admissions Representatives. She's looking forward to kicking off the year right with civil engagement and exploration in Baltimore as a co-facilitator for HopkinsCORPS!
Caroline Lupetini '19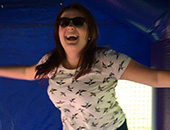 Caroline Lupetini is a second-year International Studies/Political Science double major from Chicago, IL. She is involved with Model UN, the Student Admissions Advisory Board, the International Studies Leadership Committee, and her sorority, Pi Beta Phi. She will also be serving as the CSC's intern for Alternative Breaks next year. On the trip, Caroline is especially excited to share her favorite Baltimore neighborhoods and meet the incoming first-year students!
Osiris Mancera '19

Osiris Mancera is a second-year Latin American Studies and Medicine, Science and Humanities double major. She's originally from Jacksonville, Florida but has strong roots to her family's home in Guanajuato, Mexico. She's involved as a Stressbusters and OLE Outreach Coordinator and also works at the Office of LGBTQ Life and in Hampden's Charmery ice cream shop. She's looking forward to sharing her love for Baltimore, Mexican food, horror films, and Johns Hopkins as a co-facilitator for HopkinsCORPS!