HopkinsCORPS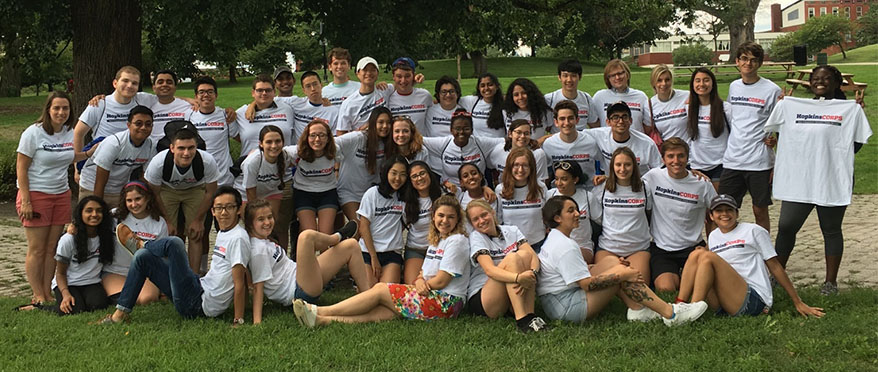 HopkinsCORPS is an immersive, week-long community service and leadership development Pre-Orientation program for incoming first-year students. The "CORPS" in HopkinsCORPS stands for "Civic engagement, OutReach, and Public Service," three elements which are at the core of what we'll be doing.
Through direct service, site visits with community organizations, reflection sessions, and leadership development activities, students learn about a variety of social justice issues relevant to Baltimore. and participate in fun group outings in the evenings to continue to explore their new community together. Students move into their residence halls early, then, spend the week living together at a retreat center located at the historic Mount Vernon neighborhood of central Baltimore. The program is facilitated by staff from the Center for Social Concern and student leaders who are highly trained and have significant community service experience. Facilitators will remain with students throughout the entire program. Learn more about JHU's pre-orientation programs.
HopkinsCORPS is wonderful opportunity to really understand the issues surrounding Baltimore and what you could do to amend them. It's a way to make amazing friends and learn to think differently and openly…you come into Hopkins already so knowledgeable about the city which can only prove an invaluable asset for the next four years at Johns Hopkins. — Participant
Program Information
Meet our Leaders
HopkinsCORPS is facilitated by staff of the Center of Social Concern, and six undergraduate students who have a strong commitment to community service and civic engagement. They are responsible for advising, supporting, and mentoring participants throughout the program. Meet our leaders below.