Habitat for Humanity at JHU
Incoming students who are interested  in learning  more about community development  and how it impacts our entire Baltimore community and its surrounding neighborhoods, should consider joining this Pre-O program. We will be enjoying the outdoors and spending a lot of time at our work sites.  You will also have the opportunity to move in and meet your classmates early, explore the city with the guide of your leaders, learn about the history of Baltimore and the challenges it faces, while helping Habitat provide affordable housing around Baltimore.
Have questions? Contact JHUhabitat@gmail.com with the subject line "Pre-O Question."
The program was fantastic! It was structured perfectly and was one of my best volunteer experiences. It truly prepared me for college and I felt confident going into orientation due to the student leaders who made the week productive and fun. – Julia Soto, 2016 Participant
Program Information
Meet our Leaders
Habitat for Humanity at JHU is supported by the Center for Social Concern and led by four undergraduate students who have a passion for community service and civic engagement. They are responsible for advising, supporting, and mentoring participants throughout the program.
Brandon Yu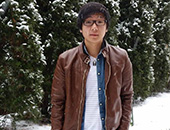 Brandon Yu is a junior, Chemical and Biomolecular Engineer major with a minor in Entrepreneurship and Management from Roslyn, New York. He has been involved in Habitat for Humanity since his freshman year and was also on the Habitat-Pre O during his incoming year. During his free time, Brandon likes to ponder the greater questions in life. These include but are not limited to: the conversion rate between j-cash to dining dollars to real dollars, if sand is just the mix between sea and land, and why blue jays were the best animal Hopkins could think of. When he's not being the world's greatest philosopher, Brandon is a rather simple being who enjoys DJ'ing Couchella, which is entirely similar to Coachella, except on the couch of his living room. When these qualities interest you, register for Habitat Pre-O and meet Brandon!
Grant Welby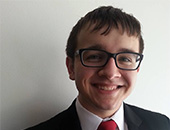 Grant Welby is a rising Junior International Studies and German Major from Harleysville, Pennsylvania. In addition to his work as the Secretary of  Habitat for Humanity at JHU, on campus Grant writes for the Baltimore Zeitgeist, is the Recruitment Chair for JHU Mock Trial,  the Vice President of the JHU German Club, and occasionally competes with the Table Tennis Club. Grant has also previously worked with the Johns Hopkins Model United Nations Conference (JHUMUNC). Grant is looking forward to telling you the worst puns you've ever heard during the Habitat Pre-Orientation program (all the puns on the application are his fault), and helping you to get to know Baltimore better!
Jonathan Tai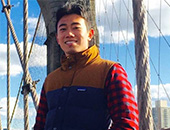 Jonathan Tai is a senior Public Health major from New York City. He has been involved with Habitat since high school and is currently one of its Vice Presidents here at Hopkins. He is also the Vice President of the Pre-Dental Society, a research assistant at the Johns Hopkins School of Medicine's Epidemiology Research Group in Organ Transplantation, and a brother of the Beta Theta Pi Fraternity. Previously, he was also a Hopkins club lacrosse player, Grandparent for the Thread Mentorship Program, and member of the Nu Rho Psi society for Neuroscience. His ideal day off from the Habitat work site involves cooking all his meals for the day but eating plain, bland oatmeal instead, power lifting, engaging in mentally stimulating challenges with his friends such as chess or stack cup, painting the beautiful landscapes of Baltimore, and ending the day with a sesh of all Netflix and no Chill. If any of these qualities interest you, register for Habitat Pre-O today and come meet Jonathan and the rest of the Hopkins Habitat exec board!
Scott Sterrett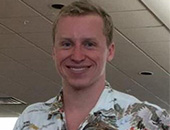 Scott Sterrett is a Senior Biomedical Engineering major from Pittsburgh, PA. He joined Habitat during his freshman year through the Pre-Orientation program. He loved the experience and has been an active member ever since. He lead the Pre-O trip his Sophomore year and was the coordinator his Junior year. Outside of Habitat he is the president of the Engineering Ambassadors and a captain on the varsity swim team. He was voted best eyes in his senior class.
Vishnu Prasath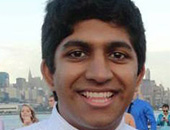 Vishnu Prasath is a senior Biomedical Engineering major from Hackettstown, New Jersey. He joined Habitat during Pre-Orientation his freshman year when he met his good friend, Scott Sterrett. He is currently the President of the Chapter of Habitat for Humanity at JHU and the President of the JHU Engineering World Health Chapter on campus. He is an undergraduate research assistant in the Institute for NanoBioTechnology and volunteers at the Johns Hopkins Hospital in the Center for Research Excellence in Surgical Trials. He is also the Design Team leader for the Water Purification Team in Engineering World Health.
Vishnu is pursuing a double minor in Underwater Abacus and Sushi Studies. In his free time, Vishnu enjoys presiding, building habitats, and helping humanity. He spends his weekends by picking things up and putting them down as well as taking the MCATs for fun. If you're interested in meeting this incredible specimen of a human being or care about helping others, please apply!