The Digital Da Vinci Award
Posted: November 12, 2018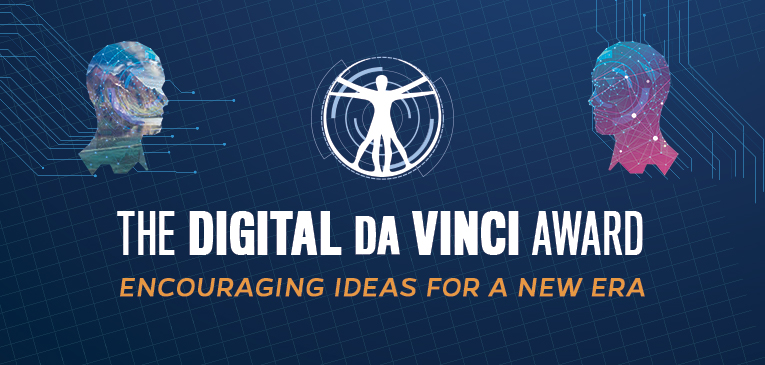 This annual award, presented by the Johns Hopkins University Digital Media Center, is named for Leonardo Da Vinci—a painter, sculptor, inventor, and engineer. He is renowned for his creativity and originality in art, science, and technology.
The DMC has money available for creative projects! What ideas do you have to lead us into a new era?
Is your idea Leonardo-worthy? What tools, materials, and mentoring would it take to get your idea off the napkin and into the real world?
Frequently Asked Questions
Full-time students enrolled in the JHU Schools of Art & Sciences or Engineering.
Student clubs or organizations based on the Homewood campus.
Staff, faculty, and graduate student instructors who are piloting a creative technology project that students will complete for the class (Homewood campus).
Applications for The Digital Da Vinci Award are not currently open. Please check back for more information.
Send an email to digitalmedia@jhu.edu with your proposal attached as a .doc or .pdf.
Groups are welcome to apply. Make sure to follow the application rubric listed.
Title of Project
Contact information for project lead:

JHU email
email you actually read
Best number to reach you

Description of the project including clearly defined

artistic component(s),
technology component(s), and
method of engaging an audience or community

Project timeline w/milestones: Which parts of the project will be done when and what externally fixed deadlines might affect the project?
Itemized materials budget (bear in mind, the DMC may already have what you need!)

A list of equipment and tools needed to make/display the project and consumable materials
Approximate cost of these materials and suggested source(s)

Other resources needed

Where will you make this project? Do you need mentoring to learn new skills?
Are there other systems you will need to interface with?

Anticipated barriers/challenges

What can go wrong and how might you deal with that?
Are there any community norms that might be violated?
What campus safety rules could conflict?

Resume of the applicant(s):

Cite past projects that demonstrate that you have some of the skills you will need to implement this idea.
Create a context that shows interest and capacity to learn new skills.
The proposal can be short and to the point. 2-4 pages + budget and your resume(s).
Proposals will be judged using the following criteria:
Creativity and originality of the idea – 40%
Clearly articulated artistic component – 15%
Innovative use of existing technology – 10%
Feasibility of completion by your team – 15%
Community engagement – 20%
All proposals will be reviewed by a committee made up of DMC professional and student staff.
Notification of awards or requests for revisions to the proposal will be made by early December.

The total amount of grant money available is $6,000 and the committee will try to fund several worthy projects.
Projects may range from inception through development of new processes, tools, interfaces, and static and interactive works of art.

Funding is available at the beginning of the spring semester.
The project may continue for one year or until the awardee leaves the university.

The DMC uses the grant funds to purchase items listed in the budget.
Funds are not disbursed directly to award winners and cannot be used for compensation or incentives.
Tools and equipment that can be reused by other students after project completion will remain within the DMC.

We recommend contacting the DMC Director (digitalmedia@jhu.edu) to discuss your project idea(s) before submitting a grant proposal. We also recommend not waiting until the last minute; the earlier the better!

Tags: creative tech, creative use of technology, digital davinci award, digital media center