How to Become an Instructor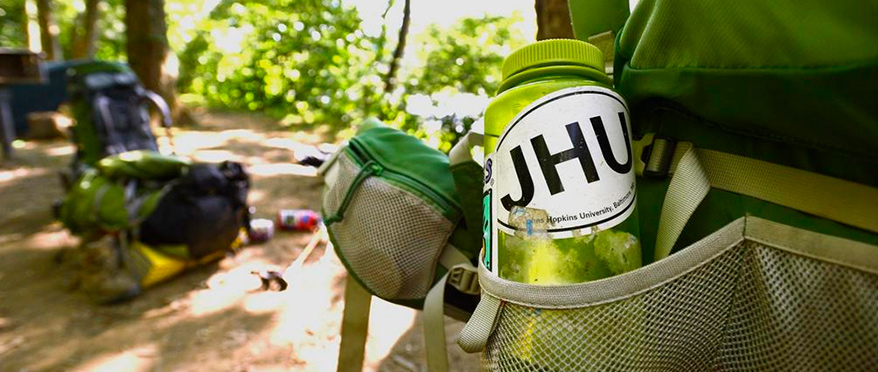 The Experiential Education new instructor hiring process is postponed until the Spring. This includes hiring for Outdoor Pursuits (OP) and the Johns Hopkins Outdoors Club (JHOC). We will update Campus Groups, our social media, and this website when we are ready to hire. Until then please check out or virtual programming on Campus Groups.
We are looking for motivated students to become leaders for the Johns Hopkins Experiential Education program. Even if you do not consider yourself outdoorsy, either Experiential Education program, Outdoor Pursuits (OP) and/or the Johns Hopkins Outdoor Club (JHOC), will teach you the skills you need to be competent in the outdoors. Our priority is to find people who can bring a variety of experiences and backgrounds, are excited about working with others, enjoy learning, and want to learn skills to be effective teachers of outdoor skills.
Both of our outdoor groups offer instructors the opportunity to lead trips throughout the school year and the ability to apply to become an Outdoor Pre-Orientation leader. Listed below is a brief description of each group and the different trips you can lead throughout the school year. If you have questions please e-mail selection@jhu.edu and we will direct you to the appropriate person.
Instructor Opportunities
Listed below is a brief description of each group and the different trips you can lead throughout the school year.
The Office of Experiential Education (EE) encompasses Outdoor Pursuits (OP) and the Johns Hopkins Outdoor Club (JHOC). All outdoor instructors are trained through the EE program no matter which organization they are a part of. It is important to note that being an outdoor instructor is a HUGE investment of your time and the program's resources. Being an EE instructor is not just an activity, it is a job. It requires a lot of training and can be extremely rewarding. The EE instructor program is a 3-4 year program (depending on your current year in school) and will require a substantial portion of your time at Hopkins (see the training requirements below). Much of this training is subsidized by the EE program and you will be taught the industry standards for being an outdoor instructor. EE instructors are held to a high professional standard while leading for the EE program. If you are committed to the journey of becoming an outdoor instructor and facilitating great outdoor experiences for others, please apply!
Outdoor Pursuits began offering outdoor trips in 2002 to expand the variety of trips offered to the JHU community and to develop a more formal outdoor leadership program. Students who are selected as instructors (about 19 people) must pay for their own training; however, instructors are paid for planning and leading trips. Instructors who are continually involved in the program can offset their training costs and may even earn a little bit more throughout their years as an instructor. OP instructors are required to lead at least one trip per semester, attend any in the field training and EE instructor meetings throughout the year. OP instructors are expected to dedicate time to improve their leadership skills both in the field and on campus. Generally, OP instructors are hired for one primary specialty; however, there is opportunity to cross-train in other specialties if you would like.
JHOC is a student-run club that was founded in the early 1970s. JHOC pays for the full training of 5 new instructors per year (around $700-850) Since JHOC is a student club, JHOC leaders volunteer their time and are not paid for leading JHOC trips or performing club related duties. All JHOC trips are free to the student body. JHOC has around 30 members and runs approximately 18 trips each semester. JHOC leaders are expected to lead a minimum of two trips per semester. JHOC instructors are not assigned a primary specialty and many choose to train in multiple specialties. JHOC offers trips in unique specialties such as caving mountain biking, and rappelling, and also holds frequent community events that encourage people to get outside. Although we encourage all leaders to go through certification training, we sometimes accept instructors who do not receive certifications. These leaders have equal duties and responsibilities in the club. For more information on the club visit the JHOC website.
Outdoor Pre-Orientation (Pre-O) is a wilderness-based trip for incoming freshmen designed to help students create connections with other peers and university life before starting college. Pre-O instructors come from both JHOC and OP and are paid to facilitate the program each year. Pre-O instructors must complete Wilderness First Responder, Hopkins Outdoor Leadership Training, attend selection trip and be selected, and must be in good standing with the EE program.
Instructor Application Process
If you have questions or want to find out more about either EE program please attend one of the "Want To Be An Instructor?" meetings:
Experiential Education Office
Experiential Education Office
Climbing Wall (Meet and Greet)
*The EE office is behind the Recreation Center by the ROTC building
Go on a trip in the specialty(ies) you are interested in. This lets you get to know other instructors while they get to know you. For instructors applying to JHOC, the club asks that you attend 2 trips. For the JHOC trip schedule and to sign up visit the JHOC website , or for OP trips visit the OP trip website .
We will be holding 20 minute interviews October TBD. You will receive more details and how to sign up for an interview shortly after the application deadline.
Once you are selected as an EE Instructor and if you are interested in becoming a Pre-O Instructor please attend the Spring Semester Pre-O selection trip.
Instructor Application
Applications are due by TBD
Instructor Requirements
| | WFR1 | HOLT2 | JHU/EE Van Cert. 3 | WIC4 | TRIC 5 | DSC Skipper Cert.6 | EE meetings7 |
| --- | --- | --- | --- | --- | --- | --- | --- |
| Outdoor Pursuits | | | | | | | |
| Backpacking/Hiking | ✅ | ✅ | ✅ | | | | ✅ |
| Canoeing | ✅ | ✅ | ✅ | ✅ | | | ✅ |
| Climbing | ✅ | ✅ | ✅ | | ✅ | | ✅ |
| Fly Fishing | ✅ | ✅ | ✅ | | | | ✅ |
| Sailing | ✅ | ✅ | ✅ | | | ✅ | ✅ |
| Sea Kayaking | ✅ | ✅ | ✅ | | | | ✅ |
| Whitewater Kayaking | ✅ | ✅ | ✅ | ✅ | | | ✅ |
| JHOC | | | | | | | |
| Backpacking/Hiking | ✅ | ✅ | ✅ | | | | ✅ |
| Canoeing | ✅ | ✅ | ✅ | ✅ | | | ✅ |
| Caving | ✅ | optional | ✅ | | | | ✅ |
| Climbing | ✅ | ✅ | ✅ | | ✅ | | ✅ |
| Mountain Biking | ✅ | optional | ✅ | | | | ✅ |
Wilderness First Responder (WFR) is a 9 day first aid and CPR class that occurs over January Intersession. You will have to take a 2 day re-certification every 3 years.
The Hopkins Outdoor Leadership Training (HOLT) is a 10 day wilderness leadership course in May that begins right after final exams.
In order to drive on EE trip, if you possess a valid driver's license, you must take the EE and JHU van certification the beginning Spring Semester
The Whitewater Kayaking/Canoeing Instructor Course (WIC) is a 5 day training that occurs on the first half of Spring Break
The Top Rope Climbing Instructors Course (TRIC) is a 5 day training that occurs on the second half of Spring Break
The Downtown Sailing Center (DSC) Skipper Certification is a 1 hour exam that a sailing instructor will take in their Spring Semester
New Instructor Training Meetings will begin meeting once a week from October to November with one weekend overnight. EE training meetings will begin in the Spring Semester of your first year