Backpacking and Hiking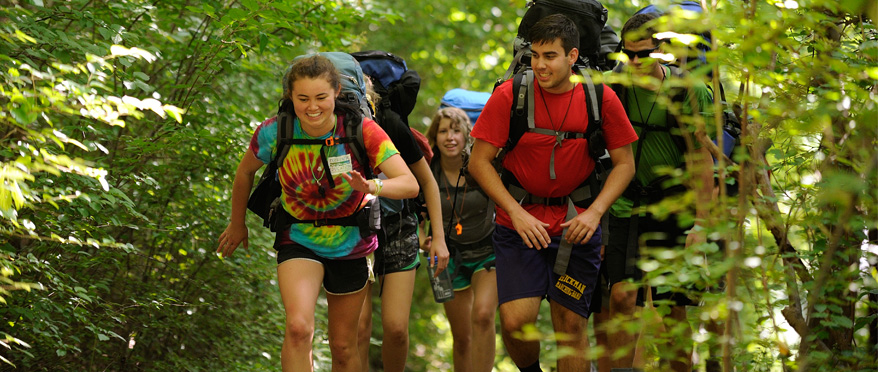 There are many great hikes in and around the Baltimore area which offer great views, a healthy challenge, and a pleasant escape from the stresses of school. No experience is necessary and everyone is welcome! Past trips have gone to Gunpowder State Park, the Appalachian Trail, Catoctin State Park, Washington D.C., and many other terrific destinations around Baltimore.
Trip Information
Trip Requirements
Review pre-trip materials. Your instructor will email you with pre-trip information.
Complete all required paperwork (See 'Forms and Waivers').
Meet the Essential Eligibility Criteria for the trip:

Travel over uneven, variable terrain, including flat, uphill, and downhill.
If conditions become adverse, travel without stopping for breaks for one hour.
Carry personal and group gear required for the specific activity in a backpack.
Carry the minimum pack weight for at least two hours beyond the intended duration of the activity. Day trip approximately 10 lbs Backpacking trips approximately 50 lbs.
Registration
How to Register
Outdoor trips are open to anyone affiliated with Johns Hopkins University including Hopkins students, staff, and faculty.
To register for a trip please do the following:
View the upcoming trips on our Outdoor Pursuits Hopkins Group page. Payment is accepted via, credit card and can be made online.
After payment has been received and processed, you will receive a confirmation email. Attached to that email will include any forms you may have to fill out and return the Wednesday before you leave on your trip.
Contact Experiential Education with any questions regarding your trip, registration information, payment options, or any concerns. We are open from 4 to 7 p.m. Monday through Thursday and 2 to 5 p.m. Friday's during the semester and can be reached at 410-516-4417 or op@jhu.edu.
The week of your trip you will be notified by the instructors about trip details and if there is an in-person pre-trip meeting.
Cancellation Policy
If you are not able to go on a trip, you may cancel no later than seven days prior to the date of your trip to receive a refund. If you do not cancel your spot a week before the date of your trip, you will not receive a refund. If a trip is canceled due to weather or any other unforeseen circumstances, you will be notified as soon as possible and will receive a full refund. To cancel, please email op@jhu.edu.
Signup Policy
You will be able to purchase one participant spot per trip online. If you have a friend (must be a current JHU student) that wants to come along they will have to purchase their own spot. Please be considerate of others that may want to go on a trip and purchase what you know you will be able to attend.
What's Included
Transportation (you must take the provided JHU transportation)

Activity-specific equipment

Basic instruction and coaching
What's Not Included
Meals (unless it is an overnight trip)

Personal clothing for the activity
Forms and Waivers
To participate in an outdoor trip you are required to complete a medical form and trip waiver.
Once your order is processed, you will receive an email with any necessary paperwork. Please download and fill out the required paperwork for your trip and return it by email to op@jhu.edu Forms and waivers must be completed and returned by 5 p.m. EST on the Wednesday before your trip. After hours, please leave your paperwork in the office door dropbox. If you do not turn in your paperwork by 5 p.m. EST the Wednesday before your trip, you will be removed from the trip without a refund.
If you have already attended a trip this academic year you do not need to fill out a new medical form and instead need to stop by the Experiential Education Base Camp and resign your form, confirming that no information on your medical form has changed since last attending a trip. You must fill out a waiver for every type of trip you attend once a year.
What to Bring
Day Hikes
Clothing
Synthetic T-shirt
Synthetic shorts or pants
Hiking boots
Wool socks
Waterproof jacket and pants
Hat with brim
Equipment
Two 1-liter water bottles
Sunscreen/lip balm
Sunglasses with lanyard
Extra glasses and/or contacts
Medication in waterproof bags
Camera (optional)
LUNCH!
Snacks, granola bars, cookies, etc.
Additional Clothing (Cold Weather Day Trips)
Long sleeve synthetic shirt
Long underwear tops and bottoms
Medium/Heavyweight wool or fleece sweater
Insulated jacket
Pair of synthetic gloves
Wool hat or beanie
Backpacking Trips
Clothing
Synthetic pants
Synthetic t-shirt
Medium weight wool or fleece jacket
Lightweight long underwear top
Lightweight long underwear bottom
Broken in hiking boots
Wool socks
Synthetic liner socks
Change of underwear
Warm-weather hat with a brim
Wool hat/beanie
Lightweight liner gloves
1-2 bandanas
Closed-toed camp shoes (Crocs or old sneakers will do)
Equipment
2 or 3 1-liter water bottles or equivalent Camelback type bladder
Backpack, 4000+ cubic inches (for rent)
Pack cover or large garbage bag
30 o F rated sleeping bag (for rent)
Sleeping pad (for rent)
Headlamp with extra batteries
Bowl and spoon
2-3 ziplock bags
1 pair of sunglasses with keeper strap
1 pocketknife
camera (optional)
Toiletries (travel sized)
Toothbrush/toothpaste
Sunscreen/lip balm
Gold Bond powder
Travel-sized Wet Wipes
Insect repellent
Personal hygiene items for women
Extra glasses and Contacts
Personal medications in waterproof bags
Equipment Included for Backpacking Trips
Backpack
Sleeping bag
Sleeping pad
Group camping and cooking equipment
Trip Schedule and Registration