Fitness & Weight Room Policies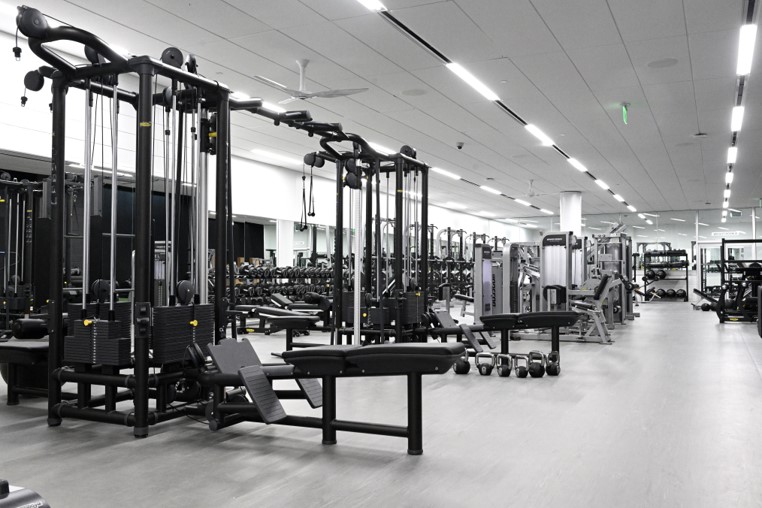 General Information
The Ralph O'Connor Recreation Center has a variety of fitness spaces to strengthen your body, mind, and spirit during your Hopkins experience.
We offer multiple Fitness spaces that features a variety of cardiovascular equipment along with complete sets of strength training equipment to meet the needs of all users. We provide designated floors with pieces of equipment to provide a clear user-friendly experience to guests. It includes top of the line manufactures such as Hammer Strength, Life Fitness, and Technogym. Our Cardio floor features the latest Technogym cardio machines to offer a personalized & digitized ways to track your progress.
Policies
Appropriate exercise attire is required and must be worn at all times (proper athletic shoes, pants/shorts, and shirt/top).
Barbell Olympic style lifts (cleans, snatches, jerks) are NOT PERMITTED in general weight room due to space limitations, flooring, and safety concerns.
Chalk is NOT permitted.
Dropping and/or slamming weights is prohibited.
Collars or Clamps must be used on all barbells.
All fitness equipment and weights must remain in designated fitness and strength & conditioning areas (barbells, dumbbells, straight bars should remain in the weight room).
Equipment must be used for the manufacture's intended purposes only. See signs and labels.
Do not lean or brace weights or bars against walls or mirrors.
Re-Rack items in their designated areas.
If assistance is needed, please speak to Recreation Staff. Fitness Monitors are available in each fitness area.
Weight Room B Policies and Deadlift Platform Rules
Only bumper plates may be used on deadlift platforms. Bumper plates must remain in designated storage locations.
Patrons must clear all plates and collars from the bar after use and return to the storage location.
Perform controlled reps – do not intentionally allow the weights/bar to excessively drop, slam, or bounce onto safety bars, platforms, or floor.
These rules and guidelines have been implemented to ensure the safety, reduce risk, and improve the overall experience for all gym patrons. These policies will be enforced by our recreation and facility staff. Thank you for your cooperation.