Fitness & Weight Rooms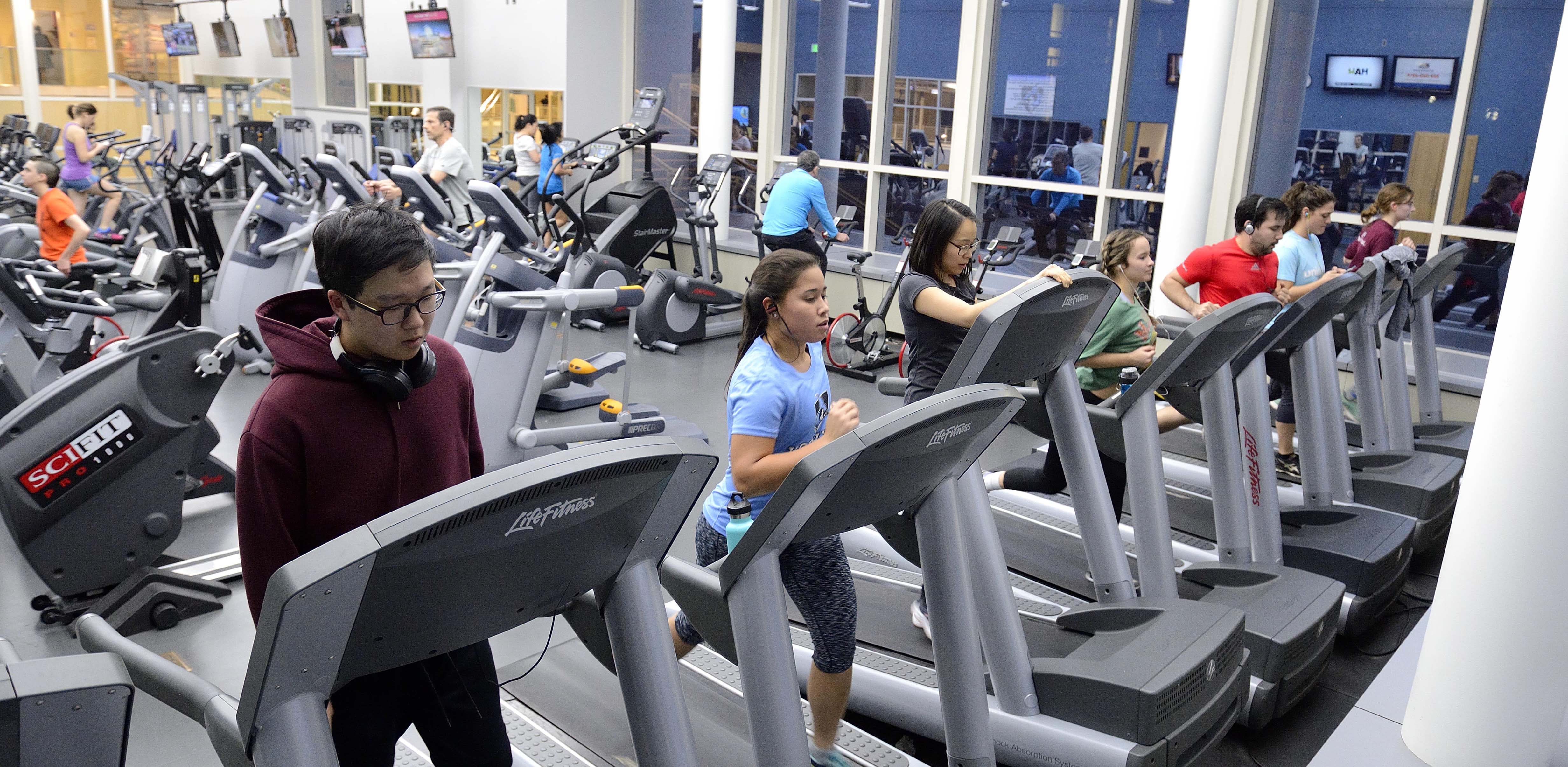 Fitness Room
The fitness room is a 3,400-square-foot space featuring panoramic windows and the following equipment:
LifeFitness & Woodway treadmills
Precor, Cybex, & LifeFitness elliptical cross-trainers
Stairmaster StepMills
Helix lateral trainers
LifeFitness upright & recumbent bikes
Keiser spin bikes
Concept II rowing ergometers
A complete circuit of strength training equipment by LifeFitness
Light free weights & benches
Weight Room
The weight room is a 3,200-square-foot space and contains the following equipment:
Precor half racks with lifting platforms & bumper plates
Hammer Strength iso-lateral selectorized machines
Olympic benches and a variety of free weight benches
Free weights, fixed bars & kettlebells
Functional training accessories like medicine balls, battle ropes, plyo boxes, BOSUs, and balance disks
Jungle Gym
The CT8 Tuff Stuff functional training system—we call it the Jungle Gym—allows individuals and groups to perform functional training utilizing monkey bars, pull-up bars, gymnast rings, an adjustable step, a rebounder, and TRX suspension trainers.
Did You Know?
The least congested times to use the two rooms are between 9–11:30 a.m. and 1:30–4 p.m. on weekdays. The busiest time is after 5 p.m.!
The Recreation Center loses hundreds of towels every year. Out of respect to other users and your membership fees, please return the towels to the bins when finished. Our hand towels exist solely on a borrowed honor system as a service to our users.
The Recreation Center is a scale-free environment!
The fitness room and weight room are regularly staffed during our busiest times in the evenings and on weekends.
Fitness & Weight Room Policies
Rules are made to be broken right? Not in this case! The following policies have been put in place for your safety, the comfort of all members, and the care of our equipment while using the fitness and weight rooms. Please adhere to the following:
Attire
For the comfort of other members, all gym users must wear shirts. Sports bras, or single layer crop tops (defined by an elastic band on the chest) are considered underwear and may not be worn without another layer over the top.
For your safety, open-toed shoes or slip-on shoes without a heel strap are not permitted. Members must wear shoes in all areas of the facility except for the pool, martial arts room, stretch areas, and barefoot group fitness classes.
For the care of our equipment, denim shorts/pants and cargo shorts/pants (and any other clothing with hardware such as zippers, buttons, key rings, rivets, etc) may not be worn.
The Recreation Staff reserves the right to make decisions on specific attire on a case by case basis.
Safety
Spotters are recommended for any free weight exercises performed over the head, face, or chest.
Clips/collars are required on bars.
Bars may not be dropped from an overhead position.
Etiquette
Please re-rack your free weights, bars, and plates.
Wipe off equipment after each use. Disinfectant spray and towels are available for use.
Please comply with staff instructions.

There is a 30-minute time limit on all cardiovascular equipment when there is a wait.
Equipment
Equipment may not be removed from the room.
Please notify a staff member immediately if you notice an issue that requires maintenance or immediate attention.
Personal Training
Only Recreation Center Personal Fitness Trainers may conduct training sessions in the facility.
Please contact a staff member if you require extra assistance because of a disability.
Failure to comply with Recreation Center policies may result in cancellation of membership or barred status from the building.