Sailing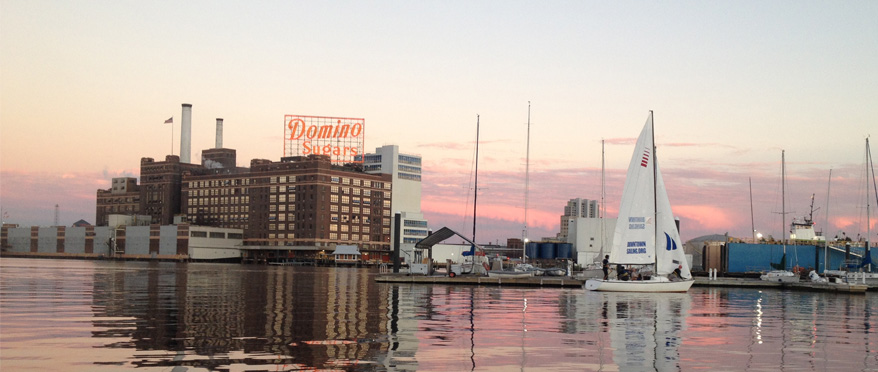 There is no better way to make a quick escape from everyday city life than to spend an afternoon or day on the water! Our Sailors head to Baltimore's Inner Harbor most Fridays, and some Saturdays and Sundays for longer sails. Whether you're a beginner looking to learn the ropes or a seasoned sailor wanting to spend time on the water, we'd love to have you join us. We provide transportation, all the equipment, and lessons in sailing fundamentals. On the trip, we will go over basics, hop on the boats and hit the water. You will get quality instruction from Outdoor Pursuits student instructors who have years of experience. Each instructor will tailor to your specific sailing skill level, whether it's your first time seeing water or you grew up on a boat. We sail 22′ Sonar's and J22's for our Friday trips, and 35 foot cruisers for our Saturday/Sunday trips.
Trip Information
Trip Requirements
Review pre-trip materials. Your instructor will email you with pre-trip information.
Complete all required paperwork (See 'Forms and Waivers')
Meet the Essential Eligibility Criteria for the trip:

Independently hold head upright without neck/head support
Manage personal care independently or with the assistance of a companion
Manage personal mobility independently or with a reasonable amount of assistance
Follow instructions and effectively communicate independently or with the assistance of a companion
Independently turn from face-down to face-up and remain floating face up while wearing a properly fitted life jacket
Registration
How to Register
Outdoor trips are open to anyone affiliated with Johns Hopkins University including Hopkins students, staff, and faculty.
To register for a trip please do the following:
View the upcoming trips on our Outdoor Pursuits Hopkins Group page. Payment is accepted via, credit card and can be made online.
After payment has been received and processed, you will receive a confirmation email. Attached to that email will include any forms you may have to fill out and return the Wednesday before you leave on your trip.
Contact Experiential Education with any questions regarding your trip, registration information, payment options or with any concerns. We are open from 4 to 7 p.m. Monday through Thursday and 2 to 5 p.m. Friday's during the semester and can be reached at 410-516-4417 or op@jhu.edu.
The week of your trip you will be notified by the instructors about trip details and if there is an in-person pre-trip meeting.
Cancellation Policy
If you are not able to go on a trip, you may cancel no later than seven days prior to the date of your trip to receive a refund. If you do not cancel your spot a week before the date of your trip, you will not receive a refund. If a trip is canceled due to weather or any other unforeseen circumstances, you will be notified as soon as possible and will receive a full refund. To cancel, please email op@jhu.edu.
Signup Policy
You will be able to purchase one participant spot per trip online. If you have a friend (must be a current JHU student) that wants to come along they will have to purchase their own spot. Please be considerate of others that may want to go on a trip and purchase what you know you will be able to attend.
What's Included
Transportation (you must take the provided JHU transportation)

Activity-specific equipment

Basic instruction and coaching
What's Not Included
Meals (unless it is an overnight trip)

Personal clothing for the activity
Forms and Waivers
To participate in an outdoor trip you are required to complete a medical form and trip waiver.
Once your order is processed, you will receive an email with any necessary paperwork. Please download and fill out the required paperwork for your trip and return it by email to op@jhu.edu Forms and waivers must be completed and returned by 5 p.m. EST on the Wednesday before your trip. After hours, please leave your paperwork in the office door dropbox. If you do not turn in your paperwork by 5 p.m. EST the Wednesday before your trip, you will be removed from the trip without a refund.
If you have already attended a trip this academic year you do not need to fill out a new medical form and instead need to stop by the Experiential Education Base Camp and resign your form, confirming that no information on your medical form has changed since last attending a trip. You must fill out a waiver for every type of trip you attend once a year.
What to Bring
Clothing
Synthetic T-shirt
Synthetic shorts or pants
Closed-toed shoes (old sneakers work great)
Waterproof jacket and pants
Hat with brim
Additional Clothing (Cold Weather Trips)
Long sleeve synthetic shirt
Long underwear tops and bottoms
Medium/Heavyweight wool or fleece sweater
Wool Socks
Pair of synthetic gloves (to help keep your hands warm)
Wool hat or beanie
Equipment
Day pack or small backpack
Two 1-liter water bottles
Sunscreen/lip balm
Sunglasses with lanyard
Extra glasses and/or contacts
Medication in waterproof bags
Camera (optional)
LUNCH!
Snacks, granola bars, cookies, etc.
Equipment Included
Personal Flotation Device (PFD)
Sail Boat
Trip Schedule