Contact Us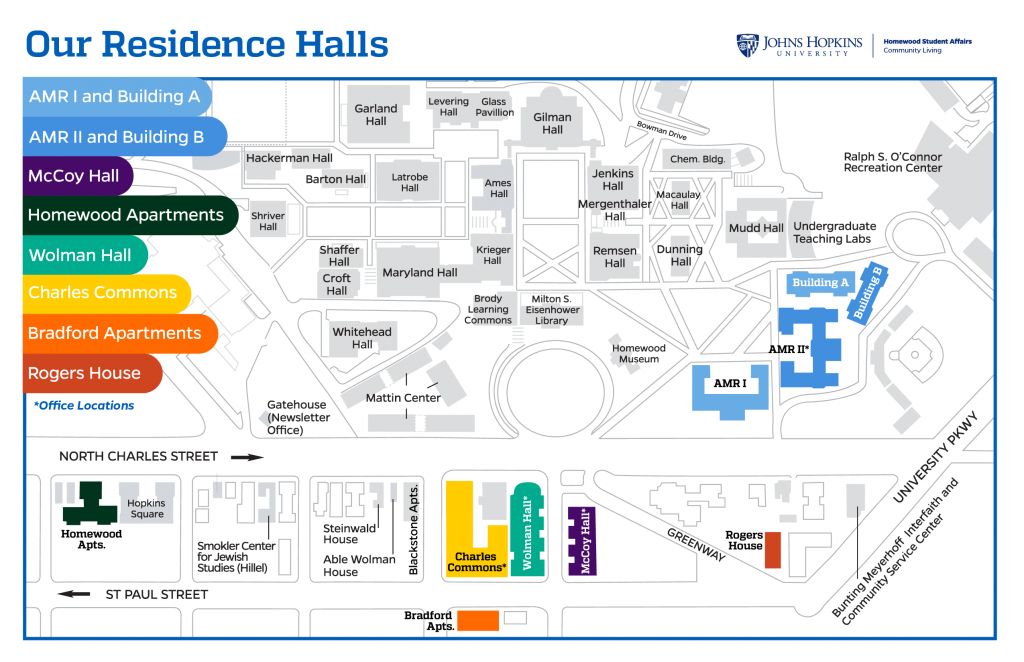 Jessica Kupper
Jayson Schablik
Samantha Asbury
Reginald Coleman
Lawrence Haye
Taylor Jones
Dan Seigel
Directory by Residence Hall
Select the building you live in for the Residence Director (RD) responsible for that area. RD's supervise our RA teams, help students find and build community, and assist in addressing any concerns that may arise in the residential living environment.
All of our offices are open for the 2021-2022 academic year, Monday through Friday, 8:30am – 5:00pm.
Staff Directory
Please select from the drop down menu's below for the contact information for the entire Residential Life team.
Phone: 410-516-8283
Email: ResidentialLife@jhu.edu
Mailing Address:
Residential Life Office AMR II
3510 North Charles Street
Baltimore, MD 21218
Reginald Coleman
Residence Director, Wolman Hall & Bradford Apartments
Office Location: Wolman Hall, main entrance lobby
Office Phone: 410-516-3976
Email: rcolem37@jhu.edu
Lawrence Haye
Residence Director, AMR I, AMR II, AMR III Buildings A & B
Office Location: AMR II RD Office (first door on your left)
Office Phone: 410-516-6186
Email: lhaye1@jhu.edu
Taylor Jones
Residence Director, McCoy Hall & Rogers House
Office Location: McCoy Hall, first floor
Office Phone: 410-516-0654
Email: tjone216@jhu.edu
Dan Seigel
Residence Director, Charles Commons & Homewood Apartments
Office Location: Charles Commons, Charles St. entrance past the mailroom
Office Phone: 410-516-3975
Email: dseigel2@jhu.edu
Office location for all staff listed below: AMR II Main Office (first door on your right).
Jessica Kupper
Director
p: 410-516-8283
e: jkupper2@jhu.edu
Jayson Schablik
Associate Director
p: 410-516-8283
e: jschabl1@jhu.edu
Samantha Asbury
Administrative Coordinator
p:410-516-8283
e: sasbury2@jhu.edu