First-Year Students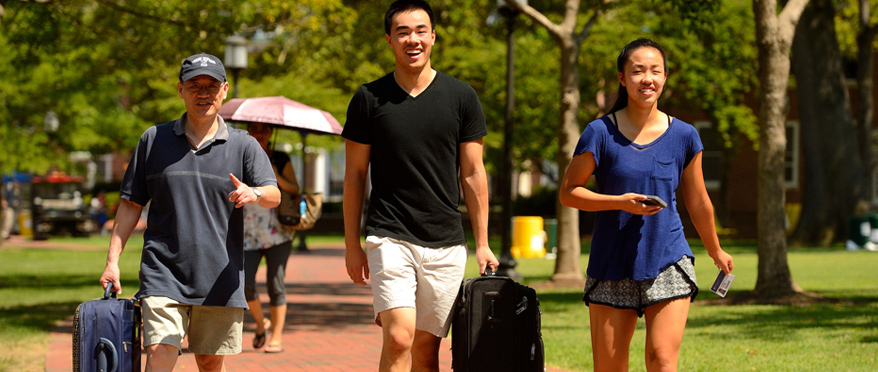 Welcome and congratulations on your decision to join the Johns Hopkins University community! The next few months will be exciting for you as you begin your preparations for college life. This section contains information which will:
Explain our policies and procedures
Explain the assignment process for incoming first-year students
Provide you with information about our housing facilities and meal plan options
Provide you with information to assist you in making your housing questionnaire choices
Provide helpful housing-related resources
The Community Living staff looks forward to having you live with us!
Getting Started
All incoming, full-time Arts and Sciences and Engineering first-year students are required to live in university housing. First-year students are placed in one of our designated residence halls or first-year areas, typically with a roommate. We will pair students together based on their responses to the preference questions, however, we cannot guarantee a perfect match. Most first-year students will reside in double occupancy rooms; please note that there are a limited number of single-occupancy rooms available. Second-year students have the opportunity to choose whom they wish to live with through a room selection process.
Applying for Housing
Before applying for housing, all students should first review the policies and procedures below and explore our residence halls and meal plan options. In mid-Spring, all students who have confirmed they will be attending JHU in the Fall will receive communication with instructions on accessing and completing their housing application online via the Student Housing Portal. Complete your Online Housing Contract and Questionnaire items by June 3, 2020.
Policies & Procedures
Commuter Exemption
The only exception to the On-Campus residency requirement for first-year students is for those students who live with their parent(s) or legal guardian within commuting distance from campus. If this is your situation and you are planning to commute from home, there is a separate application process on the portal. When you log into the Online Housing Portal, select and complete the Commuter Exemption Request for the upcoming academic year. Questions regarding commuter exemption eligibility should be directed to Rebekah McMillan at rmcmil12@jhu.edu or 410-516-7960.
Requests for Accommodated Housing
Medical documentation is required to request accommodated housing for any reason. Housing accommodations are granted based only on medically-documented need. No request can be considered for any circumstances beyond documented medical needs. All documents should be submitted to the office of Student Disability Services. The request will be evaluated and approval or denial will be communicated directly to the student. The types of accommodations provided are dependent on the impact of the student's disability.
Single Room Accommodations
Requests for a single room as an accommodation based solely on a desire to have a "quiet, undisturbed place to study" will not be granted. By virtue of the shared facilities, resources, and number of people living under one roof, it is not logical to assume that having a private room would provide for such quiet, distraction-free space to any appreciable degree beyond living in a standard double room. Requests for a single room as an accommodation requires documentation from a qualified medical professional that demonstrates a link between the request and disability.
Applying for Housing Accommodations
Register with Student Disabilities Services (SDS) and provide documentation of your disability.
Apply for housing through the Online Housing Portal. Submit your housing contract and lifestyle questionnaire. On the Online Housing Portal, make sure to select "yes" when answering "Are you requesting additional accommodations?" on the step labeled "My Additional Housing Needs."
Once your application and request for accommodation have been submitted, they will be reviewed by Student Disability Services and University Housing. Assignments are made based on availability of housing and approved housing accommodations.
All requests for accommodated housing and supplemental medical documentation must be received by the Student Disability Services Office no later than May 27, 2020. Please note you must still submit your Housing Contract online through the Housing Portal by June 3, 2020.
Liability Policy
As stated in your housing contract, Johns Hopkins University is not responsible for damage to or disappearance of a student's or their guest's personal possessions unless such damage or disappearance is proven to be the result of the sole negligence of the university. This policy includes, but is not limited to, items in student rooms, bike rooms, trunk rooms, and music rooms. Just as in a private home, sometimes things happen that cannot be foreseen, and items are damaged. The university will do everything possible to expedite cleanup of the facility.
Because of the possibility of damage or theft, it is a good idea for students to ensure their possessions. In some cases, this can be done through the parent's homeowners policy. If this is not possible, we strongly urge you to consider a renter's policy. The University has found a company that specializes in serving the collegiate environment: National Student Services, Inc. Information is available through both housing offices. For more information, please visit the National Student Services, Inc. website.
Move-In, Residence Hall Closures & Travel Plans
Before making travel plans (and booking airline/train/bus tickets) for move-in and/or breaks, students should be sure to refer to the Housing and Dining calendar for that year. Please lookout for an updated calendar for the upcoming year to be published in mid to late Spring.
Residence hall closing and opening dates and times are firm. For the Thanksgiving and Spring Break periods, only those students who have made prior arrangements will be permitted to remain in their rooms. For Winter Break, all first-year students must vacate their building.
First Year students will move into their residence halls on August 22, 2020. In order to control traffic and ensure a smooth move-in process, each student will be assigned a specific time to arrive to campus on that day. It is important that all students arrive at their assigned time. Once you arrive to campus, the driver will stay with the vehicle, and assistance will be provided to help you move your belongings into your room. After your items have all been unloaded, the driver will then be directed to the appropriate parking garage to allow for us to move in the next student. More specific information will be sent to all students with their room assignments in the summer.
Peabody Dual Degree Students
Peabody dual degree students are required to reside on the Peabody campus for their first year. For more information, please visit the Peabody's housing website.
Assignment Process
Housing assignments are made according to the results of a computerized random sort. This allows all students who submit their housing contract by the deadline, an equal opportunity to get a low (better) sort number.
All students whose contracts are submitted by June 3, 2020, will be included in the first-year lottery. Students will receive an internal priority number that designates the order they will be assigned their space. The priority numbers are determined through a random computer-generated sort of students who meet the above deadline.
If any student misses the application deadline, he or she will be placed in any remaining available space after the process.
Placement will be based on your priority number. The best effort is made to honor your preferences. However, there are times when this is not possible. Contracts submitted after the deadline will be prioritized according to date and time in which they are submitted. Contracts in this group are the only ones that are assigned on a first-come, first-serve basis after the lottery process is completed. For example, if the random sort ends with number 1000, the first contract received after the deadline would receive number 1001, the second 1002, etc.
Lifestyle Questionnaire
Aside from your priority number, part of the assignment process is evaluating your selections on the lifestyle questionnaire. The lifestyle questionnaire asks you to list your preferences in regards to building and room occupancy, as well as various other attributes.
If you have someone you would like to room with, you are able to request a roommate by searching for them in the online Housing Portal and then adding them to your roommate group. The other student will need to confirm and join your roommate group in order for both students to be assigned together.
If you do not know of someone, you can be included in the roommate search function. You will fill out a small bio about yourself (which will be visible to other incoming first-year students) as well as complete the lifestyle questionnaire. Based on your answers, matches will be populated that you are then able to message through the portal. Once you have found someone you are interested in living with, you can create a roommate group for the other student to join with you. Again, both students must confirm and join the same roommate group in order to be assigned together.
If you do not request a roommate and do no find a roommate using our roommate search option, our system will refer to your questionnaire when we reach your priority number and match you with a roommate (if applicable) into available spaces. While we do our best to accommodate students' top building and room preferences, we cannot guarantee placement in your top choices.
Triple Room Accommodations
Triple rooms are our most affordable housing option. These rooms are typically $600 less per semester ($1200 less per year) than the cost of an AMR III Building A/B double occupancy room. Please check the room and board rates to see specific rates on rooms for the upcoming year.
First-Year Overflow & Triples
Please also note that not volunteering for a triple room does not mean you will not be placed in a triple. You may be placed in a triple based on limited space availability when we reach your priority number. Should traditional spaces open up prior to move-in or after move-in, you may be contacted with a new room assignment.
If you are placed in a triple room, you will be billed the triple room rate. In the event we are able to de-triple the room, or move a student to a traditional space prior to move-in weekend, we will adjust your bill accordingly to reflect the double room rate. If you are de-tripled during the school year, your bill will be pro-rated and adjusted based on the date you are de-tripled.
We plan first-year space based on the projected incoming class size. In years we have an increased first-year class, we have housed the students by increasing the number of triple rooms on campus and utilizing other buildings to house first-year students together.
Flat Rate Billing Information
All incoming freshman students will receive an initial housing charge on their SIS account when they receive their tuition bills. This housing charge is a flat rate billed to all students, as housing assignments are still being processed. The charge is based on a common room rate to allow for budgeting purposes – however, it is not indicative of a student's housing assignment at that time. Students will receive their formal room assignment at the end of July/beginning of August. Once students receive their room assignment, housing charges will be adjusted to reflect the proper room rate prior to tuition bills being due.
Gender Inclusive Housing
Traditionally, housing assignments are made with students of the same sex, and in general, that will continue. However, we acknowledge that this does not work for everyone. To meet the needs of all students, by nurturing an atmosphere where students can be the most comfortable with whom they live, it is important that the residential community has an atmosphere that values diversity, social justice, and promotes the dignity of all people.
Therefore, all residential students may choose to create their living group as single-sex (male or female), or a mixed group, which will create a gender-inclusive unit. It is important that the JHU housing community is a comfortable, safe place for students to live. Not all students are comfortable living in units with other students that are assigned or chosen based solely on sex. The goal is for students to feel empowered and supported by the housing system. This option was developed by Housing and Residential Life to be offered in the same manner as our room selection processes, with nothing different required, thus it will not call attention to the living environment that students choose and will provide an inclusive climate.
Incoming first-year students will be able to choose their roommate, regardless of biological sex or gender identity. As mentioned above, both students will need to join the same roommate group in order to be assigned together. Room assignments will then be made for the pair placing them following the random lottery process. As all first-year students can only request roommates and not suitemates, the pair will be placed in one of our Alumni Memorial Residence Halls (AMR I or II), as those buildings have double room configurations instead of shared suites. The AMRs will have both gender-neutral bathroom facilities as well as traditional single-sex bathroom facilities available. If both students do not join the same roommate group, the students will be assigned based on biological sex.
Meal Plans
Dining Programs offers five meal plan choices for first-year students. Visit the Meal Plans page to learn more.