Applicants
Applicants To Medical and Dental School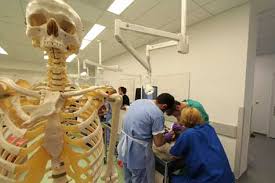 If you are an undergraduate or alumnus of the Johns Hopkins University Whiting School of Engineering or Krieger School of Arts and Sciences, are planning to apply to medical or dental school, and have completed pre-medical/pre-dental requirements as an undergraduate, you are eligible for application advising and services provided by the Office of Pre-Professional Programs and Advising. However, only undergraduates and alumni applying 4 years post-graduation are able to participate in the Health Professions Committee Process and have a Committee Letter written on their behalf. Services offered by the Pre-Prof. Office associated with the application process include application advising, meetings and workshops, webinars, letter recommendation management, and application completion and submission. Here is a brief overview:
The Health Professions Committee Process
The Health Professions Committee Process is how Johns Hopkins University formally presents you as a candidate to medical or dental schools. Your strengths, attributes, and competencies as an applicant are summarized in your "Committee Letter," which accompanies your individual letters of recommendation that are forwarded to medical and dental schools.
Canvas
All eligible JHU applicants use Canvas to assist in the medical and dental school application process. Canvas provides you with quick and easy access to critical and timely information and resources regarding your application to medical or dental school, including forms, presentation PowerPoints/webinars, and important web links. Information on how to sign up for Pre-Prof's Canvas site is communicated by email by the Pre-Prof Office in the fall and winter. If you have questions, please send an email to preprofessional@jhu.edu.
veCollect
All requests for letters of recommendation to support your future application to medical or dental schools go through veCollect. It is an online letter of recommendation request and storage system that enables you to request letters of recommendation, manage your letters, automatically provide a waiver, and verify that they have been received. Once you open a veCollect account, your recommendations are on file until you have matriculated to medical or dental school.
Health Professions Application
The information in the Health Professions Application (HPA) allows the Pre-Prof Office to present you as a candidate for medical or dental school; it is the foundation of your Committee Letter. Since this application mirrors your professional school application, the time, energy, and thought put into the HPA will pay off immensely.
Application Timeline
The application process is something that should be reflected upon and carefully considered. Although approximately 80% of applicants from Johns Hopkins University take at least one "bridge" year following graduation, many students have also successfully applied without any bridge year(s). We strongly encourage our students to meet with one of our advisors to discuss an application timeline that best fits their academic and personal goals.
---
Below are the links for applicants: