Student Organizations
As a university highly respected for its pre-health programs, there are a number of active and influential health-related student organizations on campus. Each group has a distinct mission and unique philosophy for better preparing students for a career in medicine described below. If you are interested in obtaining membership information, please contact the group(s) via email or, even better, attend the Student Involvement Fair!
General Student Organizations Lists
The following lists present links and information about all student organizations at Johns Hopkins. There are many health-related organizations interspersed through these lists.
Student Organizations Advised by the Pre-Prof. Office
Below are specific health-related organizations that are advised by the Office of Pre-Professional Advising:
Alpha Epsilon Delta (AED) is an international honor society for pre-medical students and the largest pre-med organization in the United States. AED is also the world's largest honor society exclusively serving pre-medical education, with a membership exceeding 124,000 in 174 chapters. AED at Johns Hopkins is involved in a number of activities in addition to its being a portal for members and other premeds to receive guidance and assistance through the medical school preparation process. Some of these activities include medically-related community service events, mentoring underclassmen students, tutoring for premedical classes, and a lecture series each semester that brings prominent names in the medical profession to speak to undergraduates. Advisor: Ms. Johnson
The Hopkins Organization for Pre-Health Education is the Johns Hopkins Chapter of the undergraduate subdivision of the Student National Medical Association. The purpose of this organization is to raise awareness about health disparities that plague underserved communities, serve as a resource of admission and advising of pre-health information, provide community service to the greater Baltimore community, and increase exposure of pre-health students to various fields in the health professions. Advisor: Ms. Johnson
The Pre-Vet Club is dedicated to providing information and resources to any Hopkins student interested in veterinary medicine. The group organizes events ranging from lectures with guest speakers, workshops on the veterinary school admissions process, and trips to visit and tour schools of veterinary medicine.
Advisor: Ms. Jensen
The Pre-Nursing Club is dedicated to providing information and resources to any Hopkins student interested in nursing. The group organizes events ranging from lectures with guest speakers, information sessions with visiting nursing school admissions representatives, and trips to visit and tour local and regional nursing schools.
Advisor: Ms. Jensen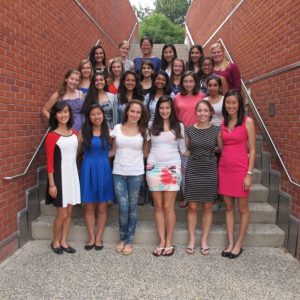 The Women's Pre-Health Leadership Society is an exclusive group of female undergraduates at Johns Hopkins University who have demonstrated academic excellence, commitment to community service, and a passion in pre-health studies. The mission of the society is to provide a forum for young women to inspire and empower one another, while addressing the current healthcare and professional issues and concerns facing all women, and promoting the next generation of female physicians and scientists. The Women's Pre-Health Leadership Society will provide a platform for female undergraduates to exchange ideas and experiences, mentor one another, and receive guidance through the medical school preparation process. Society members will participate in community service events, mentoring opportunities, awareness discussions, and lecture series, and will have the chance to network with female physicians and health professionals in the Johns Hopkins network.
Advisor: Ms. Snydman