Clinical Exposure/Experience
In the Pre-Prof Office, we often have students ask, "How do I go about shadowing a physician?" We anticipate that answering this question will become harder in the months and years ahead as many hospitals and community clinics are citing issues related to patient safety and confidentiality as the impetus for fewer shadowing opportunities.
Student Observer of Clinical Care Program at Johns Hopkins Hospital
Having the opportunity to shadow Johns Hopkins Hospital physicians while an undergraduate is one of the greatest privileges available to pre-health students.
The Student Observer of Clinical Care Program provides pre-health students at Johns Hopkins with the opportunity and privilege to shadow physicians or other health care professionals (e.g., dentists, physician assistants, nurse practitioners, physical/occupational/speech therapists) at Johns Hopkins Hospital.
The program, coordinated out of the Johns Hopkins Hospital's Office of Volunteer Services, provides high school and college students interested in a career in healthcare with the opportunity and privilege to shadow physicians and/or other health care professionals at Johns Hopkins Hospital.
The introduction of the Student Observer of Clinical Care Program provides an active and mandatory approval process to facilitate the matching of providers and students, to register and track the student observer experiences, and to comply security and liability concerns as well as hospital policy.
Some caveats:
Registering your shadowing experience by navigating the mandatory clinical observation tracking program is required by ALL student observers to comply with hospital policy.
While many Hopkins health care providers enjoy teaching pre-health students about medicine, there is no guarantee or obligation for physicians to take on student observers. Be polite and give them plenty of time in advance when scheduling, as well as a chance to say no.
Steps in the Process
Step 1: Familiarize yourself with the requirements and registration form associated with the Student Observership of Clinical Care Program.
Step 2: If you are looking to match with a PHYSICIAN or a DENTIST, go to www.hopkinsmedicine.org and click the "Find a Doctor" link.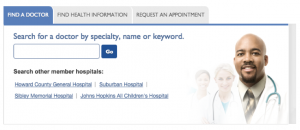 This will assist you in locating, completing the application, contacting physicians (or other health care providers working at the hospital), and following-up appropriately.
NOTE: IF YOU ARE INTERESTED IN SHADOWING A PHYSICIAN ASSISTANT OR OTHER HEALTH CARE PROFESSIONAL, YOU NEED TO INDEPENDENTLY RESEARCH HEALTH CARE PROVIDERS AT JOHNS HOPKINS HOSPITALS BY DEPARTMENT)
Step 3: Indicate an area of interest or a department at Johns Hopkins Hospital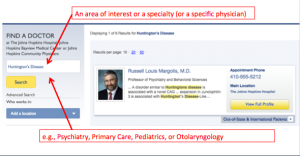 Step 4: Learn more about the doctor (or other health care provider). It is advised that you choose a physician to contact based on their unique experiences that are also of interest to you.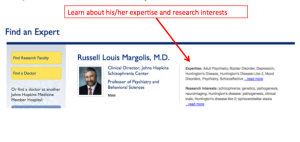 Step 5: Log into your "my.jhu.portal" and look up the email of the doctor or other health care provider.
Step 6: Draft a professional email introducing yourself and asking the physician or other health care provider if she or he would be willing to take you on as a shadow through the Student Observer of Clinical Care program. When writing to your physician or other healthcare provider, be sure to remember:
Address the subject line of the email appropriately such as "Request to be a Student Observer"
After a professional salutation (Dear Dr. Smith), make sure to identify yourself as being an undergraduate at Johns Hopkins.
Appropriately introduce yourself, indicating you are a premed/health student at Johns Hopkins University, the major you are pursuing, and, briefly, any other relevant introductory information.
Make reference in your email to the Student Observer of Clinical Care Program and a link to the webpage (https://volunteerservices.jhmi.edu/pages/app: observer).

Very

briefly share your career goals, why you are seeking this observational experience, and any specific interests you have that you anticipate being available through this observership.
Leave the request open-ended, "Would you be open to having me visit with you to discuss the possibility of my shadowing you at some point that is convenient for you?"
Appropriately close the email with a closing statement like, "Thank you in advance for your consideration and I look forward to hearing from you."
Sign off appropriately (include full name and class year).
Step 7: If the physician extends an invitation for you to shadow, reply to them and include a note that they will be receiving an email through the automated Clinical Shadowing Program that they must confirm in order for you to shadow.
Step 8: Now it is time to complete the Student Observer of Clinical Care Registration form. In addition to biographical information, this page requires that you:
Download and submit a Confidentiality Pledge for Visitors
Download and submit a Bloodborne Pathogens Overview
Download and submit a Flu Vaccination Record
Download and submit a Parental Consent Form (for observers under 18)
You will then sign consent and submit the application.
Step 9: The last step is to finalize a time with your confirmed physician to shadow and follow through. Make sure that you understand the expectations of clinical shadows in the hospital before you begin, and it is also recommended that you review the following Do's and Don'ts…
Do's and Don'ts
Do be as professional as possible in your correspondence with physicians
Do speak with an advisor with any questions
Do reflect thoughtfully after each shadowing experience
Don't "blast email" the same email to multiple physicians in the same department
Don't harass physicians with many emails even if you haven't heard from them after a few days; if it has been two+ weeks, then it is appropriate to follow up by email or phone
While many Hopkins doctors and health care providers enjoy teaching appreciative undergraduates about medicine, there is no guarantee or obligation for physicians to take on clinical shadows.
Good luck, have fun, and be a great representative of pre-health students at Johns Hopkins!
If you have any questions about the Student Observer of Clinical Care Program, please email shadowing@jhmi.edu.
Shadowing at Other Hospitals in Baltimore and Local Clinics
Please understand that every hospital has their own policies and procedures regarding the legality of shadowing physicians. So while some hospitals may prohibit it, others may be fine as long as you fulfill their requirements. You simply need to ask physicians if they will allow you to shadow them, and if they say yes, you're good to go!
Beyond JHH, the Pre-Prof. Office maintains two lists for you to peruse, one specific listing contacts at local hospitals and the other community health clinics:
Note that information about transportation is indicated for some sites and we recommend you use Google Maps for others.
What you need to know prior to shadowing
Shadowing is observing
When we speak of shadowing, we are referring to observing. Shadowing can be applied to just about any profession, but shadowing a physician includes observing how a doctor spends his/her day, how a doctor interacts and communicates with patients, and how a doctor works with a health care team. Added benefits of shadowing are that it helps you determine if medicine is the right career choice for you, and, when you apply to professional school, it shows the admissions offices that you've worked inside a health care facility.
What to send to physicians
When you contact a physician regarding shadowing, there are two main elements to share with him/her:
Your resume. It is of utmost importance that this be clean, neat, and look professional. We encourage all students to go to the JHU Career Center for guidance on developing a resume.
A paragraph on why you are interested in shadowing that particular physician. Include the fact that you are a pre-med student studying at Johns Hopkins University, and that you have aspirations of becoming a physician. You should also include why you want to observe that physician or within that department.
Additional suggestions and tips
Be professional. This includes arriving on time to each appointment, dressing professionally, and being courteous to everyone you meet.
Know your limits. You are not a medical professional, so do not expect to participate in hands-on patient care.
Keep a journal. On a regular basis, make notes about what you are observing and discovering in the clinic and with doctor-patient interaction. Include how all of this is meaningful to the overall experience of shadowing.
Shadowing does not (and should not) be limited to just one day, one week or one doctor. We suggest shadowing multiple physicians in multiple settings over the course of your pre-med studies.
Additional Resources
PDF Document: Guidelines for getting the most out of the doctor 'shadowing' experience by Laurence A. Savett, M.D., of the University of St. Thomas.
PDF Document: Shadowing Guidelines for Premedical Students, on the 2nd page of the "Premedical Student Tip Sheet," American Academy of Family Physicians, 2013.
5 Ways for Premed Students to Maximize Physician Shadowing by Ibrahim Busnaina, M.D. is a graduate of the University of Pennsylvania School of Medicine and coauthor of "Examkrackers' How to Get Into Medical School."
PDF Document: Guidelines for Clinical Shadowing Experiences for Pre-medical Students, established by the Association of American Medical College's (AAMC) Group on Student Affair's (GSA), Committee on Admissions (COA) in consultation with National Association of Advisors for the Health Professions (NAAHP) and the American Medical Association (AMA), and Dr. Elizabeth Kitsis, director of bioethics education, assistant professor, Epidemiology and Population Health and Medicine of Albert Einstein COM.